Celebrate the season with gourmet olive oils and balsamic vinegars
At Saratoga Olive Oil Co., we source only the highest-grade extra-virgin olive oils from around the globe. Established in 2011, our family-owned business is an acclaimed source of gourmet olive oils, balsamic vinegars, and culinary accessories, both online and in-store.
Holiday Gift Guide for the Foodies in Your Life
Sure to impress - Find the right gourmet gifts, at the right price
Find your Perfect Flavor Match
Are you having a hard time deciding which products or flavors to try? Take our Quiz to get personalized recommendations based on your preferences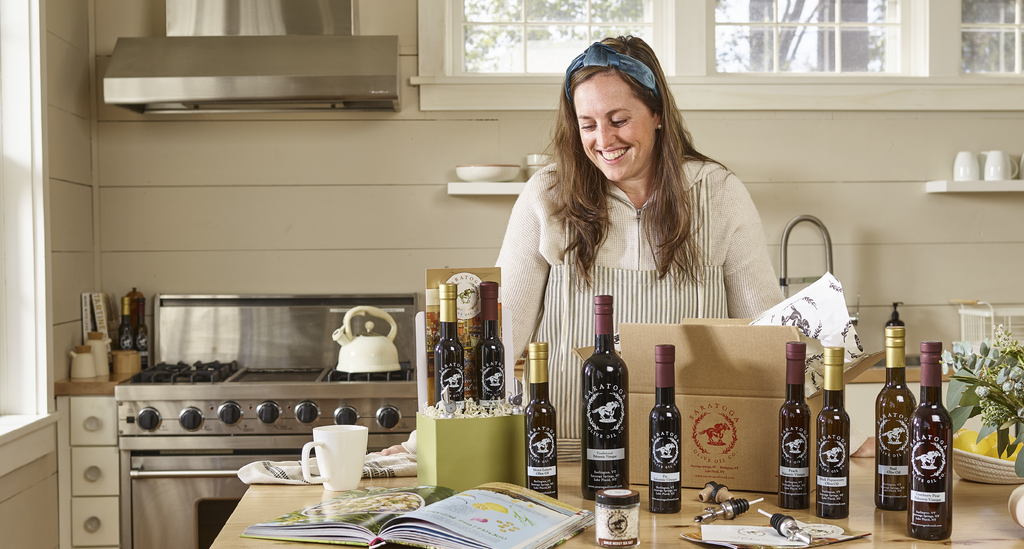 Popular olive oil & balsamic vinegar gifts
Saratoga Olive Oil stands apart from traditional olive oil producers by staying up-to-date on all global olive harvests to bring you the freshest, healthiest oils available. By tracking olive crushes from both the northern and southern hemispheres, we bring our customers the freshest oils produced anywhere worldwide. Saratoga Olive Oil typically goes from mill to mouth in just three months, maintaining both flavor and health benefits in its purest form.
Our wide selection of olive oil and balsamic vinegars are second to none, with over 50 unique types, including infused oils, to meet every taste and cooking method. Tuscan herb, chipotle, fresh basil-infused oils, as well as balsamic varieties like dark chocolate pomegranate and Sicilian lemon balsamic varieties, are all among our unique offerings. We also offer a unique assortment of sea salts, jams, spices, chocolates, gift baskets, and more - which complement and pair our gourmet collection perfectly!
We believe the best olive oil is the freshest olive oil, which is why all of our olive oils undergo rigorous laboratory testing to guarantee you only receive the freshest and healthiest EVOOs. Discover a world of culinary delights and flavors with Saratoga Olive Oil Co.! Follow the crush and taste the difference for yourself!
Our customers say it best