Saratoga Olive Oil's New Store Location - Join Us at Moreau's Grand Opening!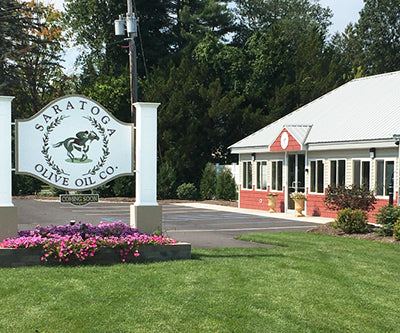 We are beyond excited to announce that we will be opening up a new storefront in Moreau, New York! The new Saratoga Olive Oil Co store in Moreau has been in the works for months now and we can't believe that the grand opening is almost a week away. We think you'll be excited too because our new store is actually an Outlet Store! This means that you will see steeper discounts on select items as well as bulk discounts on a variety of products. Which really means, you get more for less. So yes, you should be excited! You should also join us at both the Ribbon Cutting Ceremony on October 1st and at our Grand Opening on October 2nd. More details to follow.
You can find the new store at 1341 Route 9, Moreau, NY 12828. Regular store hours are Sunday through Saturday from 10 AM to 6 PM daily.
The Ribbon Cutting Ceremony
Date: Thursday, October 1st 
Time: The actual ribbon-cutting ceremony will take place at 12:30 PM, and will be followed by a soft opening with socially-distanced tours available for guests. 
Andrea Cole, Vice President of Events and Marketing for the Saratoga County Chamber of Commerce will bring ribbon and large ceremonial scissors for the ceremonial cutting. Additional members of the Saratoga Chamber of Commerce, including the Vice President of Communication, as well as the Chamber's President, will be in attendance for the event. Barbara and Clint Braidwood will speak about the new space, followed by a few elected officials from the Saratoga area. After the Ribbon cutting ceremony concludes, the Moreau store location will remain open for its soft opening. Socially-distanced tours of the new space will be given to attendees who so desire, and the shop will remain open for customers to browse and shop. It's going to be a special time for all of us, so we encourage you to stop by and join us in our celebration!  
Grand Opening Day
Date: Friday, October 2nd
Time: The store will be open with extended hours from 9 AM to 8 PM.
There will be some BIG savings on Grand Opening Day with 20% Off Everything in-store. And, if that's not enough to entice you, well, the first 20 people to arrive will get a FREE Saratoga Olive Oil Company logo-engraved tote bag. There will be a live radio remote broadcast out front with WCKM 98.5 from 2-4 PM and Hits 95.9 from 4-6 PM. We invite you to come out for our Moreau Grand Opening and see what the new store is all about for yourself!
Join Us For the Party!
Co-owners of Saratoga Olive Oil Co, Clint, and Barbara Braidwood knew that this day would eventually come when they purchased the property last year, but now their dreams are becoming a reality. With success in their first three locations in Saratoga Springs, Lake Placid, and Burlington, VT they are sure that this location will be another success, providing more variety in both products and locations to their dedicated customers. So, ladies and gentlemen, mark your calendars and come celebrate the Moreau Grand Opening with us. It's going to be a blast!