Chipotle & Tangerine Vinaigrette Pairing
Offering a spicy tang, our Chipotle Olive Oil & Tangerine Balsamic Pairing has an exciting tart and citrusy twist! This duo makes a marvelous marinade for grilled meats, or a delightful dressing for green, leafy salads.
Try this recipe: Chipotle Tangerine Vinaigrette, Chipotle Green & Grains Salad
Chipotle Olive Oil: What we love most about this Chipotle Olive Oil is the ability to add depths of flavor without being fiercely hot. Southwestern foodie fans love the warm and smoky flavors it adds to chile con queso, tortilla soup, and tamale pie. Die-hard popcorn fans love popping their favorite kernels in this authentic chili-infused oil. The high smoke point makes this aromatic oil perfect for all your grilling adventures. 
Tangerine Balsamic Vinegar: Nothing perks up a dish quite like the bright taste of sunkissed fruit. Our Tangerine Balsamic perfectly balances the tart of the vinegar with the sweetness of the citrus to bring a crisp cheeriness to salads, fish, and chicken. Prepare a very tasty glaze for baked salmon and fluffy rice. To impart an even greater sweetness to your dishes, mix with our Blood Orange or other citrus-based olive oils.
Try this recipe: Chipotle Tangerine Vinaigrette, Chipotle Green & Grains Salad
Note: We give Popular Pairings permission to arrive in regular packing materials. They decided a gift box just wasn't for them. If these are a token of happiness for a loved one, friend or family member, simply fill out the gift message section at checkout and we will be sure to include the note when these are shipped. Thank you!
Recipes you'll love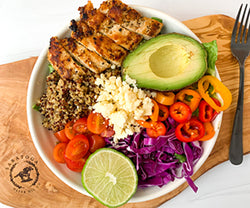 Chipotle Greens and Grains Salad
Chipotle Tangerine Vinaigrette
Our customers say it best