Neapolitan Vinaigrette Pairing
Create beautiful Italian inspired dishes with this Neapolitan Salad Pairing. With a plentiful blend of fragrant, savory, and hearty herbs, you can count on our Neapolitan Herb Balsamic Vinegar and Oregano Olive Oil to revitalize and flavory enhance your next table fare! The culmination of fresh herbs complement a variety of both poultry dishes and fine marinades.
Try this recipe: Neapolitan Pasta Salad
Neapolitan Herb Balsamic Vinegar: Enjoy the taste of rosemary, thyme, garlic, sage, and marjoram without the need for a cutting board! Use this Neapolitan Herb Balsamic Vinegar for any thick marinade, salad or vegetable dressing, or tomato sauce. Kick up your heels and throw a splash or three into your Sunday brunch bloody mary. Fish dishes excel, and chicken will never be the same, so grab a bottle of the good stuff to keep close at hand.
Oregano Olive Oil: Enliven your senses with the classic mediterranean taste of wild grown oregano in our Oregano Olive Oil. Paired with tomatoes and crusty bread, try making several variations of the classic caprese dish by layering sandwiches, building skewers, and plating a salad! Delicious when marinating grape and cherry tomatoes! Try coating red, orange, or yellow peppers then roasting or grilling to perfection. Unbelievable brushed on seasonal vegetables and stirred into hummus. Pairs well with garlic, and loves lemon!
Try this recipe: Neapolitan Pasta Salad
Note: We give Popular Pairings permission to arrive in regular packing materials. They decided a gift box just wasn't for them. If these are a token of happiness for a loved one, friend or family member, simply fill out the gift message section at checkout and we will be sure to include the note when these are shipped. Thank you!
Recipes you'll love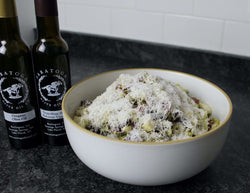 Neapolitan Chopped Salad
Neapolitan Pasta Salad
Our customers say it best