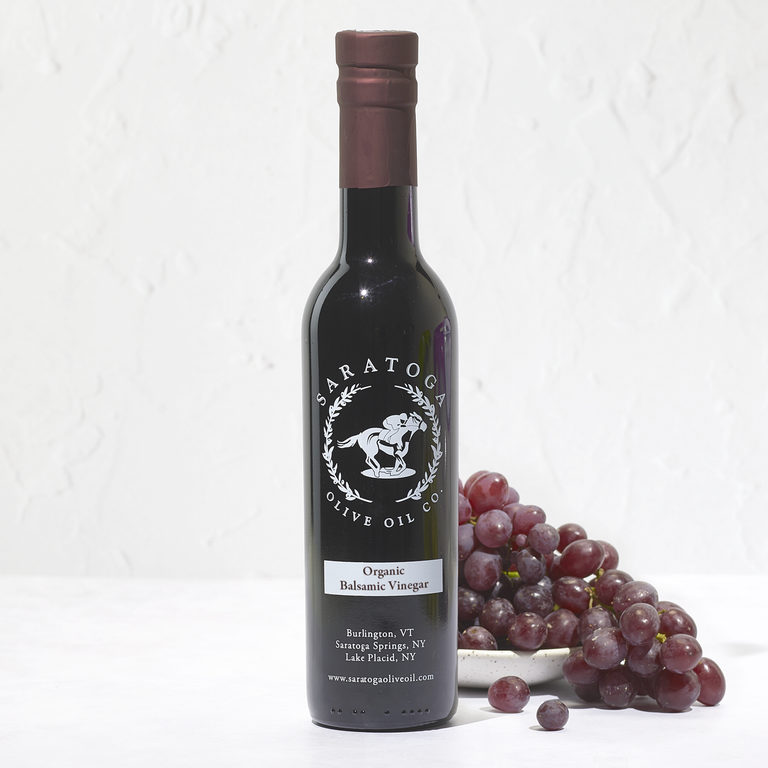 Organic Balsamic Vinegar
Our mellow Organic Balsamic has a sweet and sour essence highlighted by a delicately balanced, fruity and full-flavored finish. *THIS IS NOT OUR BEST SELLING TRADITIONAL BALSAMIC*
Product Description
Ingredients
Thinner in viscosity than our Traditional Balsamics, yet true to its name, this Organic Balsamic Vinegar is produced from organically-grown grapes that have skipped any artificial growing help. The complexity of the dueling semi-sweet/acidic flavors makes it a favorite to toss around in a salad or prepare as a vinaigrette. Surprisingly delicious when paired with peaches and other stone fruit. It is delightfully flavorful so less is definitely more when using this as a dressing for your salad. 
Couscous with asparagus

Caprese salad with yellow tomatoes, fresh basil

Steak florentine with fresh arugula

Balsamic glazed haricots with gorgonzola and pecans

Balsamic roasted mushrooms over the mushroom and garlic ravioli

Apple tart with mascarpone cheese and a balsamic finishing glaze
How do you make a balsamic glaze you ask? 2 cups of SOOC balsamic vinegar, bring to a boil then simmer for 15 minutes. Glaze, serve and drizzle the day away.
All of our balsamics are aged in wood barrels for up to 18 years. They are naturally free of any sugars, thickeners, and artificial ingredients. All-natural, always.
Ingredients: Grape must, wine vinegar, natural flavors, naturally occurring sulfites.
Frequently bought with
---
Blood Orange
Olive Oil
$15.95
Blood Orange Olive Oil
---
The rich allure of our Blood Orange Olive Oil is an enchanting dance of flavors where the zestiness of blood oranges intertwines seamlessly...
---
---
---
Basil
Olive Oil
$13.95
Basil Olive Oil
---
When you think of Mediterranean cooking, basil and olive oil are often the two integral ingredients that come to mind, making this Basil...
---
---
---
Sesame Oil
$10.00
Sesame Oil
---
With a very authentic taste and spice true to Asian cooking, this all-around oil is phenomenal in stir frys,...
---
---