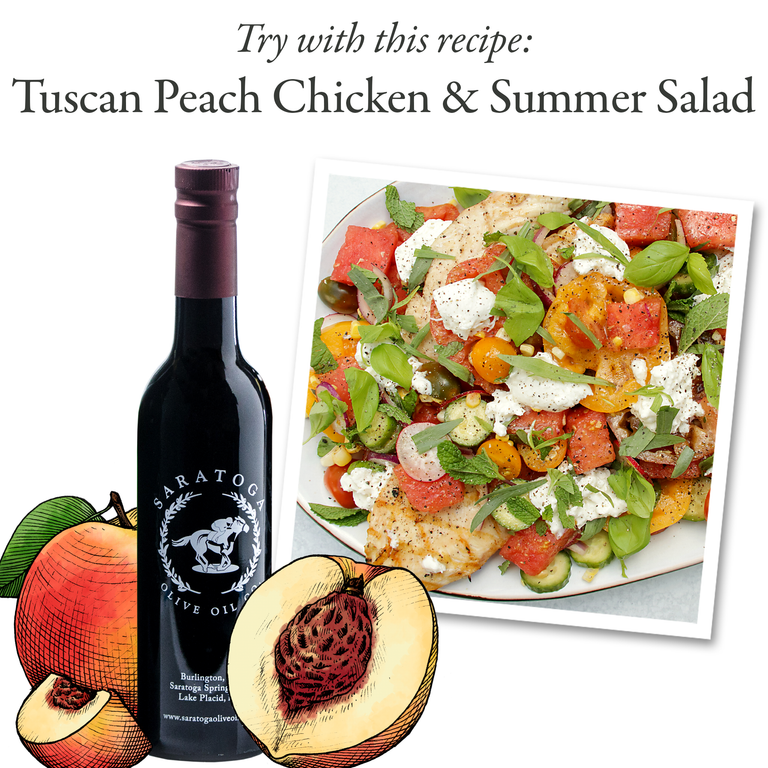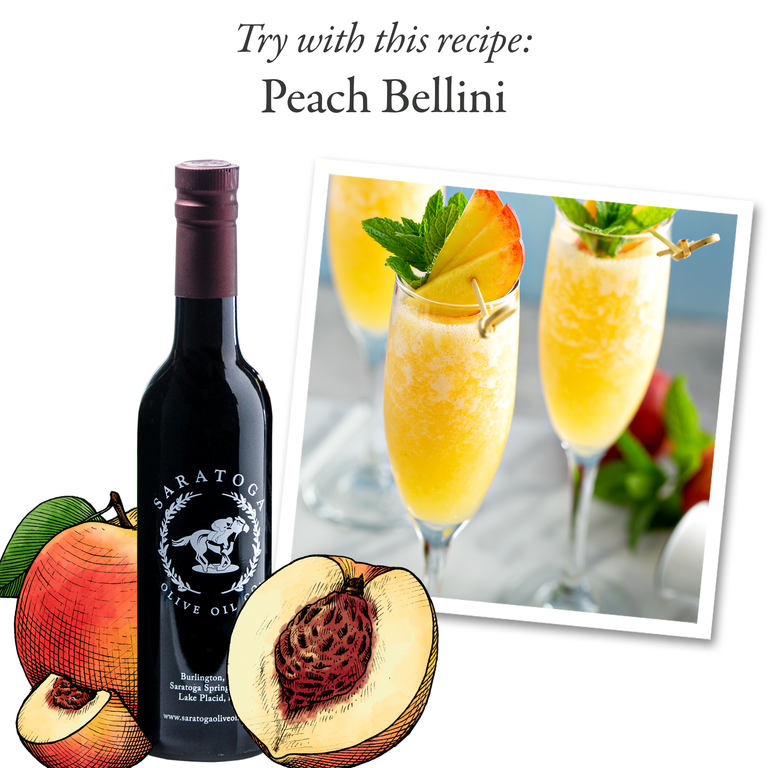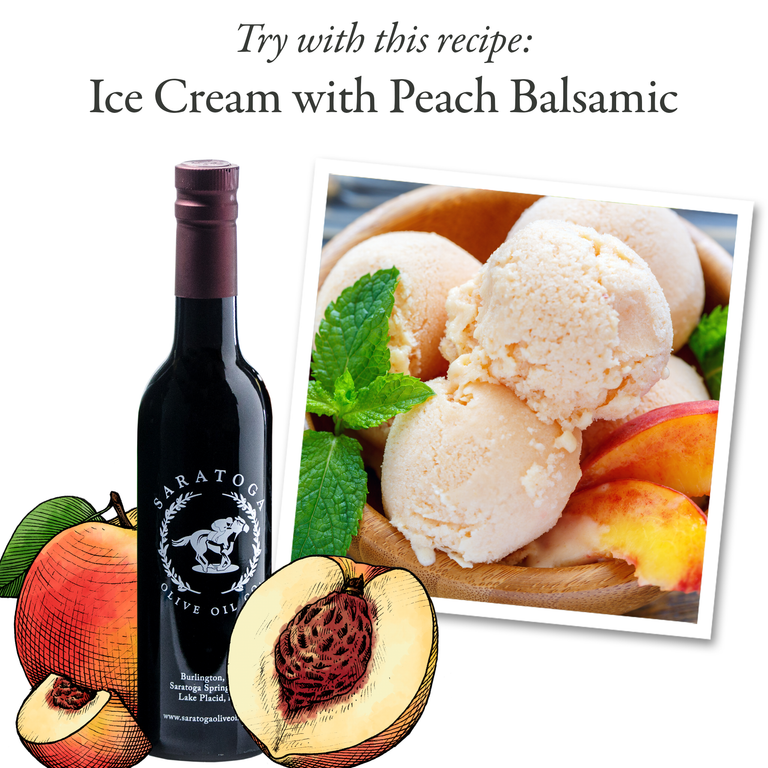 Peach Balsamic Vinegar
Our 'peach-perfect' balsamic vinegar is a symphony of sweet and tangy notes, capturing the essence of summer. This surprisingly crisp, white summer peach balsamic vinegar is aged up to 12 years and tastes more like peach juice than vinegar. We encourage you to take a sip and not be hooked!
Product Description
Ingredients
Recipes
A 'peach-tacular' blend of tart and sugary notes, its lively flavor mirrors that of sun-kissed peaches. Extremely adaptable, our Peach Balsamic Vinegar from Modena Italy can be paired with many of our oils to make a light tart vinaigrette. The fresh, smooth, and invigorating flavor will instantly transport you to a warm summer orchard regardless of the time of year. Whether you're aiming to whip up a zesty dressing or looking to impart a fruity undertone to your grilled delights, this Peach White Balsamic Vinegar is the secret weapon every kitchen needs. Its nuanced notes play well with a variety of dishes, from the savory canvas of grilled meats to the indulgent realm of desserts. Imagine a drizzle over freshly baked focaccia or a fruity twist in your morning oatmeal. This mouthwatering sweetness is fantastic as a glaze, adds a depth of flavor to bbq sauce, and is as perfect as a pie or cobbler. 
Exceptional as a marinade for Fish, Chicken, and Pork

Reduce and pour over Vanilla Ice Cream

Lover of all seltzers, mocktails, and cocktails

Delightful with yogurt and granola

Meet your match prosciutto

Drizzled over Steaks
Out of frozen peaches for your morning smoothie? No problem! Add a little extra protein or banana with a splash of this good stuff and you won't even know the peaches are missing. Don't just take our word for it; take a sip, and prepare to be 'peach-struck'!
All of our balsamics are aged in wood barrels for up to 18 years. They are naturally free of any sugars, thickeners, and artificial ingredients. All-natural, always.
Ingredients: Grape must, white wine vinegar, natural flavors, naturally occurring sulfites
" class="lazy" loading="lazy" alt="Peach Balsamic Vinegar nutritional information">
Frequently bought with
---
Milanese Gremolata
Olive Oil
$13.95
Milanese Gremolata Olive Oil
---
Typically muddled together using a mortar, the pungent oils from the herbs and citrus in our Milanese Gemolata Olive...
---
---
---
Persian Lime
Olive Oil
$15.95
Persian Lime Olive Oil
---
Add some shimmy to your next salsa or margarita recipe with a splash or two of this flagrantly zesty...
---
---
---
Tuscan Herb
Olive Oil
$13.95
Tuscan Herb Olive Oil
---
Ah Tuscany! A region celebrated for its scenic vistas, ancient architecture, and culinary heritage that has influenced kitchens worldwide. Central to that legacy...
---
---