Umeboshi Plum Balsamic Vinegar
Refreshingly crisp, tart, and uncharacteristically unique, our newest white balsamic vinegar walks the fine line of indulgent, sweet, and tangy.
Japanese Umeboshi, or Ume, is a close fruit relative to the apricot and plum family. The interwoven complexity of this sumptuous balsamic makes it the perfect accompaniment to rich dishes, luscious desserts, and thirst-quenching cocktails. Select one of our favorite oils to pair with, and your culinary adventures shall know no limits.
Enhance vine-ripened tomato dishes or heirloom tomato salads
Great marinade for pork, salmon, and shrimp
Magnificent with mushrooms
Sunday Mimosas, with a twist
Glaze poultry for a sweet, savory finish
Drizzle over cheese plates or fresh fruit platters
Our aged white balsamics come to us from Modena, Italy. They are naturally free of sugars, thickeners and artificial ingredients. All-natural, always.
Ingredients: Grape must, white wine vinegar, natural flavors, naturally occurring sulfites.
Frequently bought with
---
Blood Orange
Olive Oil
$15.95
Blood Orange Olive Oil
---
Whole, perfectly ripened blood oranges are crushed with fresh olives to make a beautiful Blood Orange Olive Oil that is fused with freshness and bright with flavor.
Barbara Braidwood, owner of Saratoga Olive Oil, loves using Blood Orange Olive Oil as a replacement for vegetable oil in baked goods.
---
---
---
Persian Lime
Olive Oil
$15.95
Persian Lime Olive Oil
---
Freshly picked Persian limes and sun ripened olives come together for an unbelievably fresh, fragrant burst of citrus!
---
---
---
Sesame Oil
$10.00
Sesame Oil
---
To achieve the tremendous depth of rich, nutty flavor, our Japanese Sesame Oil is roasted slow and low and then pressed in small batches. Easily one of the most flavorful and fragrant oils in the world!
Steve, manager of our Saratoga Shop, brushes Sushi-Grade Yellowfin Tuna with Roasted Sesame Oil, before coating it with sesame seeds and quickly searing each side in a cast iron pan.
---
---
Recipes you'll love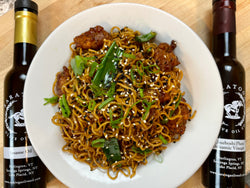 Soy Sauce Noodles with Crispy Chicken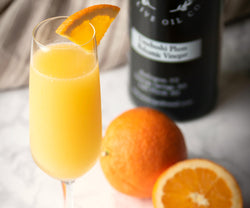 Umeboshi Plum Mimosa
Umeboshi Daikon Salad
Our customers say it best