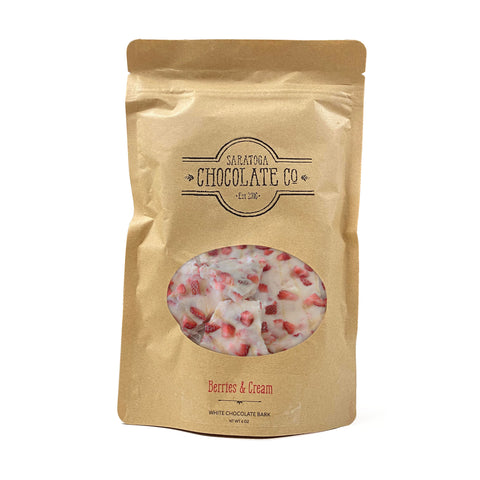 Berries & Cream Bark
Bright berry flavors of raspberry and strawberry bathed in a sweet, creamy white chocolate, make for the perfect combination of sweet and tart in this confection universally loved by white, milk, and dark chocolate lovers alike!
6oz Resealable Package
As the faithful cousin to milk chocolate, white chocolate is gaining in popularity amongst pastry chefs and bakers. A sweet bite to start, this delicate chocolate has a creamy, soft finish which provides an excellent base for fruit, nut, and cheese pairings. 
Our Berries and Cream bark infuses strawberries and raspberries that have basked in the warm summer sun with silky, velvety white chocolate. Made with cocoa butter (milk and dark chocolate contain cocoa solids), this sweet treat is a nice indulgence when you want to treat yourself.
This product is produced by the Saratoga Chocolate Company located right here in Saratoga Springs, NY. 
Please Note: Unless you're hoping for chocolate fondue, ordering or shipping chocolate during the summer months may be a fon-DON'T. Our shipments are not refrigerated - Chocolate may melt or become deformed in transit.
Ingredients:
White chocolate (cocoa butter, sugar, milk solids, vanilla, soy lecithin), strawberries, raspberries
*Please note: Made in a facility that also manufactures products with peanuts and/or tree nuts.
Our customers say it best