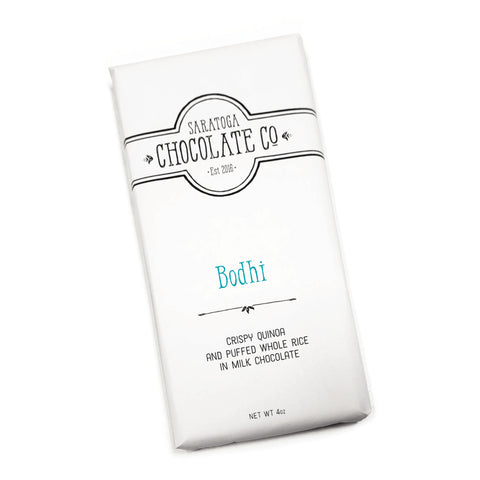 Bodhi Bar
All taste...no guilt. Creamy and luscious milk chocolate, combined with distinctive notes of honey, is hand blended with crispy organic brown rice and crunchy organic puffed quinoa. It's delectable to say the least.
** This product is Gluten Free **
This confectionary delight is named in honor of Saratoga Chocolate Company's beautiful rescue pup, Bodhi.
The dreamy chocolate bar is made of 40% Colombian Origin Milk Chocolate with puffed organic Quinoa and puffed brown rice, providing it with the perfect crunch. 
Made in a facility that also manufactures products with peanuts and/or tree nuts.
Please Note: Unless you're hoping for chocolate fondue, ordering or shipping chocolate during the summer months may be a fon-DON'T. Our shipments are not refrigerated - Chocolate may melt or become deformed in transit.
Ingredients: Milk Chocolate (cocoa mass, sugar, milk solids, vanilla, soy lecithin), quinoa, brown rice
Our customers say it best