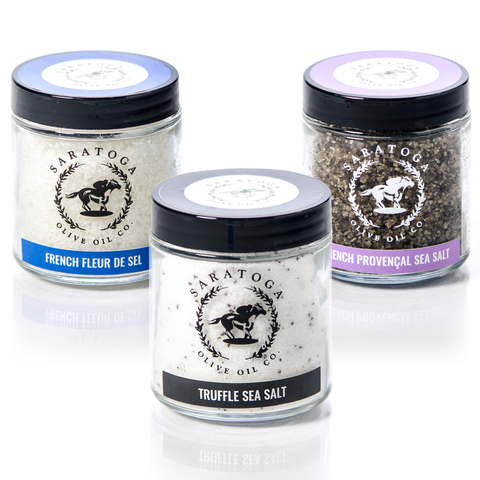 Gourmet Sea Salt Trio
Let us help bring restaurant quality taste right to your kitchen with our introductory trio of Truffle, French Provencal, and Fleur de Sel Sea Salts. Transport your taste buds to exotic regions of the world as you delve into the unique flavors. Whether keeping this for yourself, or gifting to the aspiring chef in your life, this palatable threesome is sure to please.
What's included:

Fleur De Sel Sea Salt: This mild sea salt, hand-harvested from the marshes off the coast of Brittany France, commands space in the kitchens of many aspiring and renowned chefs. The lingering light taste from the delicate crystals will leave you enjoying this gourmet salt in many home-inspired dishes and meals.
French Provençal Sea Salt: Bathe your cuisine in the signature flavors of France! This classic medley of Provençal herbs includes thyme, fennel seed, rosemary, tarragon, basil, and lavender! The premium grey sea salt and harmony of herbs will elevate any dish you graciously add it to. A versatile seasoning that will become a timeless staple in your kitchen.
Truffle Sea Salt: Truffles have such a loyal following amongst food lovers. This difficult to farm fungi friend can be expensive, but oh is the flavor worth it. When the musky, almost garlicky flavor of the dehydrated black truffle is enhanced with pure sea salt, the result is a seasoning blend destined to take center stage in your next dish. This uniquely rich truffle salt can be used in food preparation or enjoyed as a finishing salt. We think you are going to love this culinary delicacy.
*Note: Each sea salt included in our trio packs are full-size jars - approximately 4oz. 
Our customers say it best