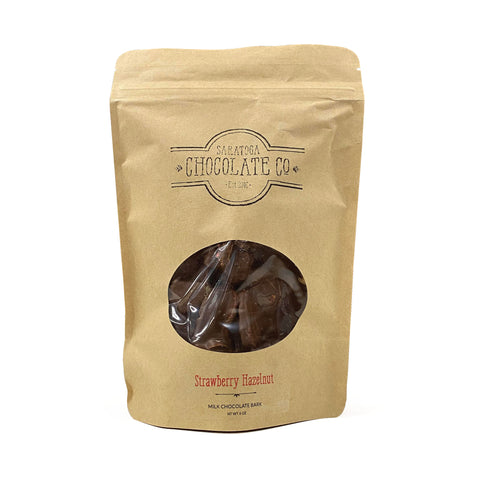 Strawberry Hazelnut Bark
Sweet and subtly toasted, chopped hazelnuts mix with the flavor of fresh spring strawberries in a decadent and smooth milk chocolate base to form a truly indulgent bark combination.
6oz Resealable Package
Although Switzerland quickly became the hub of milk chocolate production, the earliest roots can be traced back to the late 1600s. 
Today we enjoy many variations of this confectionery treat which is often combined with fruits, nuts, and sugar-coated candies. 
This buttery rich, nutrient heavy hazelnut bark incorporates velvety milk chocolate and fiber-loaded strawberries. The result is an intoxicatingly delicious indulgence sure to please both the palette and the cravings.
This product is produced by the Saratoga Chocolate Company located right here in Saratoga Springs, NY. 
Please Note: Unless you're hoping for chocolate fondue, ordering or shipping chocolate during the summer months may be a fon-DON'T. Our shipments are not refrigerated - Chocolate may melt or become deformed in transit.
Ingredients:
Milk chocolate (cocoa mass, sugar, milk solids, vanilla, soy lecithin), whole toasted hazelnuts, strawberries
*Please note: Made in a facility that also manufactures products with peanuts and/or tree nuts.
Our customers say it best