Herbes de Provence Olive Oil & Pomegranate Balsamic
Melt-in-your-mouth amazing, the Herbes de Provence Olive Oil and Pomegranate Balsamic is an intense balance as tart and sweet meets warm and savory. This delectable pairing is perfect for heartier meals, such as a roast duck or chicken! Perfect for holiday entertaining, this duo will make a lasting impression on even the most seasoned of chefs.
Try this recipe: Herbes de Provence Duck with Pomegranate Sauce
Pomegranate Balsamic Vinegar: With age comes wisdom, and given that this guy has been around for almost 18 years, we think he knows his way around the kitchen!  Use this Pomegranate Balsamic Vinegar as a marinade or glaze for heartier meats such as duck, lamb, or beef. Pair with our Herbes de Provence Olive Oil and drizzle over salads that are filled with tangy cheeses and toasted nuts. Update your desserts like whoopie pies with this simple syrupy sweetness!
Herbes de Provence Infused Olive Oil: With top notes of savory, thyme, and bay leaf, this all-natural Herbes de Provence Olive Oil is a show-stopper! The culmination of fresh herbs will take you back to lazy summer days where gardens are plentiful and the breeze is warm. As with many of our Olive Oils, you will be the star of the kitchen when you integrate this oil into your next dish, meal, or recipe. From roasted chicken and basted turkey, to artisan focaccia bread and rich stews, this infused olive oil adds just the right amount of savory goodness. 
Try this recipe: Herbes de Provence Duck with Pomegranate Sauce
Note: We give Popular Pairings permission to arrive in regular packing materials. They decided a gift box just wasn't for them. If these are a token of happiness for a loved one, friend or family member, simply fill out the gift message section at checkout and we will be sure to include the note when these are shipped. Thank you!
Recipes you'll love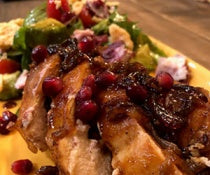 Goat Cheese Stuffed Pomegranate Chicken
Our customers say it best