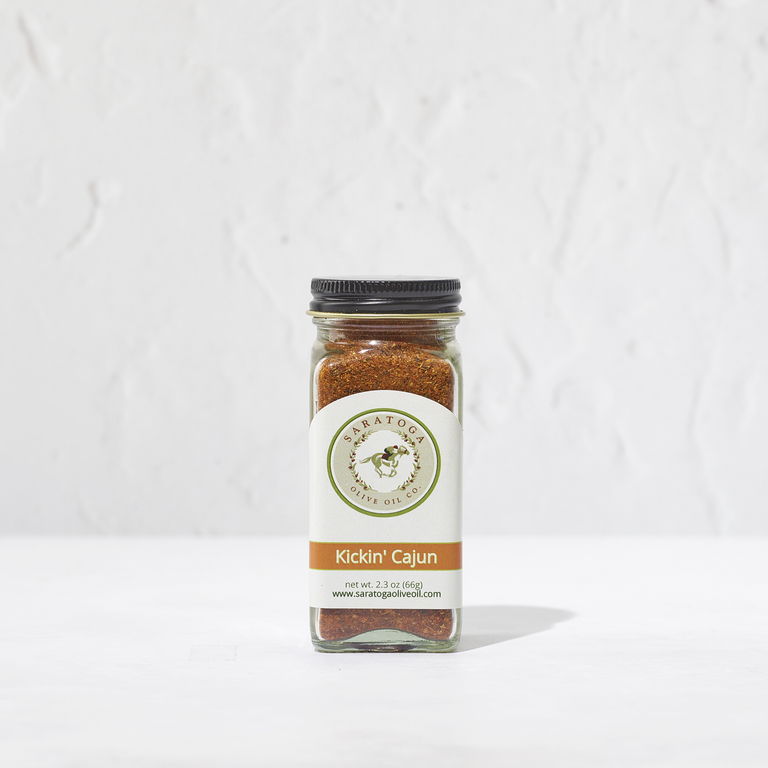 Kickin' Cajun Seasoning
Our Kickin' Cajun Seasoning is a harmony of herbs made up of Hungarian paprika, Himalayan Pink Sea Salt, Greek oregano, cumin, and coriander. Tellicherry black pepper, cayenne pepper, garlic, onion, and thyme help round out this smokey, hot blend of flavors. If you have been searching for a zesty, savory spice seasoning to really kick up your culinary fare, look no further, you've found it.
Small: 0.63 oz | Large: 2.3 oz
Product Description
Recipes
We love tossing this heap of heaven into delicious sweet/hot combination dishes where we have used our Coconut or Pineapple Balsamic Vinegar... think shrimp or fish tacos! Also terrific as a meat and chicken rub, especially before hitting the hot grill or smoker! Try sprinkling onto bean dishes, salsas, and grilled vegetables, you will love the flavor burst it infuses! Bloody marys and flirty margaritas will steal the show with this masterpiece rimming their glasses. Fashion a lemon or lime to the side and life is good.
You can also hydrate this herb mixture by mixing it with a splash or two of your favorite SOOC Olive Oil! The thickness consistency of the paste is dependent on how much liquid you add. 
Thrilled to include that The Kickin' Cajun Seasoning is ground fresh right here in Saratoga Springs, NY.
Large: 2.3 oz