Strawberry Pepper Balsamic Jam
Looking for a strawberry jam with a savory twist? Then try this mixture of sweet, sun-ripe strawberries tamed by a warm black pepper spice. Try on a hot English muffin and let the fruity goodness ooze into every nook and cranny.
One Size: 10oz (283g)
Other than eating this delicious jam with toast, our favorite way to use this is by adding it to baked brie. It's absolutely heavenly and is sure to impress your guests! 
The Strawberry Pepper Balsamic Jam is made with our very own Traditional 18-Year Balsamic Vinegar and is produced by Brimstone Bakery in Sharon Springs, New York.
One Size: 10oz (283g)
Ingredients: Strawberries, Sugar, Saratoga Olive Oil Co. Traditional Balsamic Vinegar, Lemon Juice, Black Pepper, Fruit Pectin
Recipes you'll love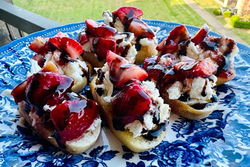 Strawberry Balsamic Mozzarella Crostinis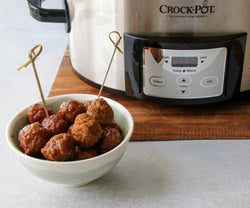 Crockpot BBQ Jam Meatballs
Our customers say it best