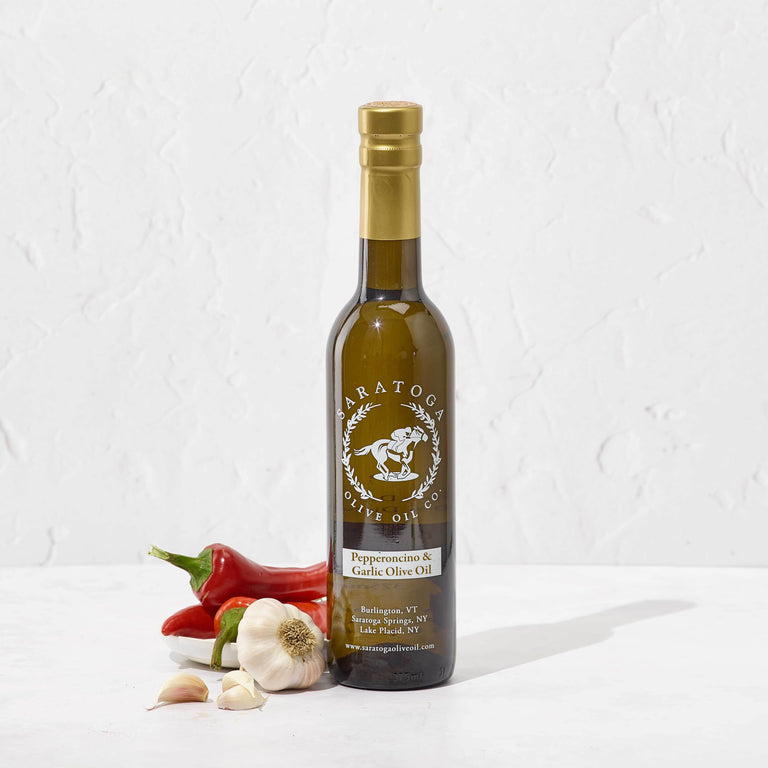 Pepperoncino & Garlic Olive Oil
This olive oil is born from the simultaneous crushing of olives, peppers, and garlic. Not a single drop of added essences invited!
Product Description
Ingredients
Get ready to meet your new kitchen BFF! Coming from Italy, it's like a flavor blend made in foodie heaven, where Coratina olives, peppers, and garlic come together bringing to your table an immediate zing of hot pepper that lingers in your mouth, with a pleasant but not too intense garlic taste. 
Turn up the heat in your gazpacho!

It's a salad dressing duo that's anything but ordinary.

Marinate and celebrate!

Tomat-oh-Yeah! Perfect in tomato–based sauces.

Make any salsa or dip feel like hot stuff!

The key to potato crispy perfection.
Here to be the everyday hero in your kitchen!

All Saratoga Olive Oils are Kosher Certified. 
Frequently bought with
---
Honey Ginger
White Balsamic Vinegar
$13.95
Honey Ginger Balsamic Vinegar
---
Take out fake out with the amazing combination of our Honey Ginger Balsamic Vinegar and Sesame Oil. Better for your...
---
---
---
Grapefruit
White Balsamic Vinegar
$13.95
Grapefruit Balsamic Vinegar
---
With subtle grapefruit notes, this slightly tangy Grapefruit Balsamic Vinegar is a showstopper with salads. We typically recommend pairing with olive oil, but...
---
---
---
Traditional 18-Year
Dark Balsamic Vinegar
$13.95
Traditional 18-Year Balsamic Vinegar
---
Every year of its aging journey adds layers of depth, creating a masterpiece that's much more than just vinegar. This luxurious condiment is...
---
---