Introducing the Balsamic 150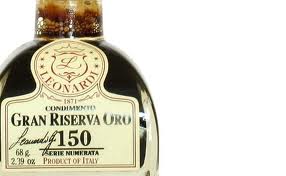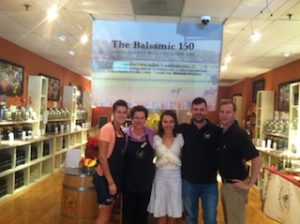 This year is the 150th anniversary of thoroughbred horse racing in Saratoga. With our shop located in the center of Saratoga and a racehorse smack dab in the middle of our logo, this four-legged beauty is truly a part of our brand.
When thinking about how we wanted to celebrate, (besides overly decorating our store with red, yellow and horse balloons galore) we thought it would be neat to find a bottle of Balsamic Vinegar that also had a 150th anniversary this year. With a bit of searching in the boot-shaped country, we found the perfect product, filled with balsamic so delectable, Kings and Queens would drizzle it with delight. 
Today, on the first day of the 2013 track season, we will place this Balsamic Vinegar in our store for all to admire, and ONE to win. Instead of just raffling it off, we wanted to help raise money for some of the great non-profit organizations in the area.
Join us for The Balsamic 150, a contest to "bid" on one (or more) of seven local charities. With each entry, you'll not only have the chance to win this 150 year-old bottle of balsamic, but you'll be able to win great products from Saratoga Olive Oil, all summer long!
Below are some more details about the campaign. Come visit us in the store to check it out, and follow the campaign on Facebook and this blog, where we'll be posting stats, posing questions and giving away free products left and right.
The details…
Bids: $1 for 1 ticket,  $5 for 6 tickets or $10 for 13 tickets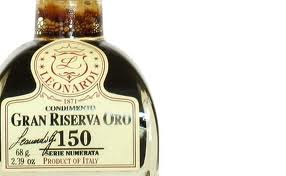 Friday Trifecta: Every Friday, we will challenge our facebook fans to guess the charities in 1st, 2nd and 3rd place during the previous week. The first three fans to guess the front runners in exact order will win the Balsamic of the Week!
Front Runner: On the last day of the track season, we'll total bids for each charity and randomly select the winner of the 150 year-old bottle from the charity with the most bids. We'll also select winners from each charity to win select items from our Racehorse Piñata.
Donations: 100% of the money donated to each charity will go directly to the organization when the contest ends.
Charities:
1.  Jake's Help From Heaven
2.  Simplifying Lives
3.  Advocates For World Health
4.  Saratoga Bridges
5.  Old Friends At Cabin Creek
6.  Home Orphaned Pets Exist
7.  Literacy NY