Share the love…with help from SOOC!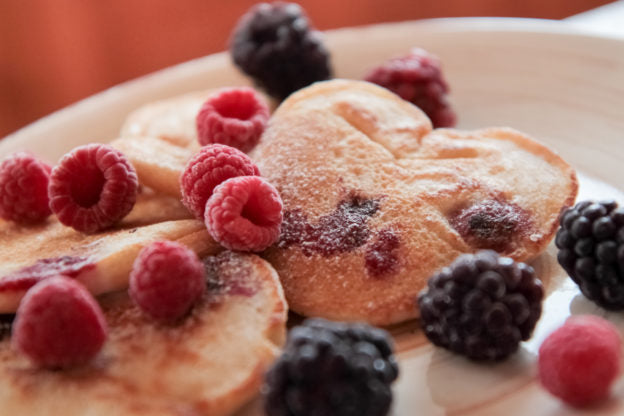 Ready for Valentine's Day? Whether you're celebrating "on time" or waiting to celebrate over the weekend, we're here with ideas to help you do so in a fun, delicious way!
Breakfast
What could be a better way to start a Valentine's Day celebration than a tasty breakfast with creative presentation?
Using a heart-shaped cookie cutter:
– Add a light coat of Butter Olive oil (on cookie cutter) or spray with non-stick spray, use as a pour guide for our Blueberry Pancakes with Balsamic Syrup!
–  Cut shapes out of our Baked French Toast with Raspberries & Almonds, then sprinkle a light dusting of powdered sugar on top before serving!
Does your Valentine prefer a more savory option? No worries! We've got you covered with Truffled, Soft Scrambled Eggs – sure to impress any foodie!
Lunch
Want to keep lunch on the lighter side? Try this Fresh Black Cherry Quinoa Salad with Hazelnuts or a Blood Orange Salad!
If you prefer to indulge in a series of "small bites," encouraging your sweetheart to share, try any of these suggestions:
– Middle Eastern Almond Hummus with Homemade Pita with Mild Varietal EVOO
– Stuffed Mushrooms with Truffle Oil

Dinner
Valentine's Day dinner can sometimes carry some unnecessary pressure – pair a nice glass of red wine with our easy Grilled Sirloin Steak Tips with Espresso Balsamic, and we've got you covered!
Word has it, clams are an aphrodisiac – try our recipe for Steamed Clams with Fennel paired with white wine!
Want to inspire your Valentine with a spicy main dish? Try any of these suggestions:
– Chipotle Grilled Filet Mignon with Mango Salsa
– Harissa Roasted Chicken with Chickpeas & Red Onion
– Raspberry & Chipotle Chicken Marinade
Do you have a vegetarian Valentine? This Cous Cous alla Trapanese will even keep the "meat eaters" coming back for multiple helpings!
Dessert
Even if you go out to dinner for Valentine's Day, sharing a dessert at home to end the day is sure to warm your loved one's heart!
Try making any of these sweet treats for your sweetheart:
–  Strawberry Balsamic Cupcakes
–  Chocolate Truffles with Lavender Balsamic
Gift Inspiration
Not able to celebrate Valentine's Day with your loved one, in person? Send them some love with the help of SOOC! We've got many great gift ideas, perfect for any time of the year:
– Treat them to a pampering session: Body Butter  or  Hand & Body Lotion
– Introduce them to a new flavor: Individual 60ml Bottles
– Appeal to their senses with functional decor: Handmade Cruet
– Remind them that "out of sight" doesn't mean "out of mind": Starter Gift Basket
Whatever the occasion, our staff is always happy to answer any questions or make suggestions! Need help? Contact us today!
Happy cooking!