Steve's Story - Time for a Change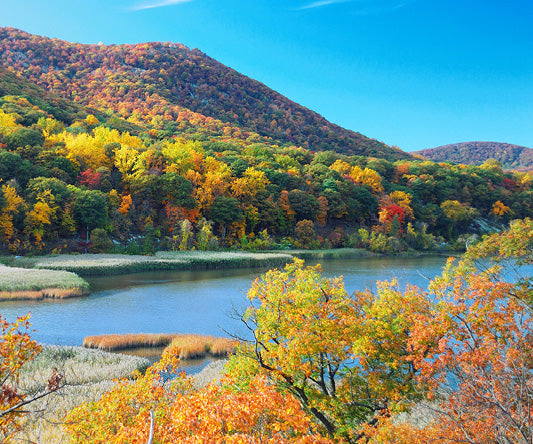 Peering out the window of my train, traveling north alongside the Hudson River from my hometown just a few miles outside of NYC on this early October day, I can't help but be moved by the breathtaking changes of color illuminating all the leaves with each passing mile on this journey back to the shop in Saratoga Springs. Strangely, as the bright summer greens and floral patterns relax into a patchwork blend of yellow, amber, orange, and maroon, I tend to lament the end of a summer season. Then something happens where I awaken and become open to the start of something new and exciting.
For children and teachers, autumn might signify the beginning of another academic year. For travelers and nature lovers, this time inspires a pilgrimage up to the mountains by many to see these brilliant colors of fall. For sports lovers, maybe October means Major League Baseball playoffs or perhaps a mounting or diminishing hope of a winning season for your team of choice in the NFL. As a NY sports fan, a hiker, a Dad, and the husband of a teacher, I identify with each of these emotions. However, as a foodie and the manager of the Saratoga Olive Oil Company, October represents a very different and exciting milestone… namely the launch of the brand new crush of extra virgin olive oils from the Southern Hemisphere!

As we slowly bid farewell to some of our favorite oils from Spain, Greece, and Italy, we turn south of the equator and happily welcome five fabulous extra virgin olive oils from both Chile and Australia. With a harvest as recent as June of 2021, these varietals offer a wide range of vivid tastes from mild notes of macadamia with a creamy finish, to a robust harvest with lively notes of tomatoes, banana, and fresh herbs.
Like so often in life, many customers resist such change but ironically welcome it at the same time. With alternate harvests seasons between the Northern and Southern Hemispheres, these changes are a time of refreshment and renewal in the shop. Once customers open up to the changes and let go of the prior harvest they might have grown attached to, an entirely new and delicious experience flows in.
Stop in the shop and let our staff introduce you to these offerings. And be sure to close your eyes when tasting. The flavors will surely transport you thousands of miles south to these wonderful regions of growth, right from where you are standing. Bon voyage!