Grilled Salmon with Balsamic and Rosemary Marinade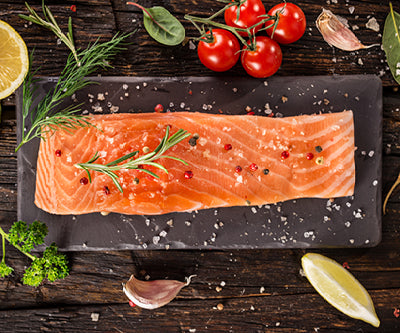 Ingredients
4 4oz wild Salmon fillets
SOOC French Fleur de Sel Sea Salt, to taste
¼ cup Lemon Juice
1 clove Garlic, minced
1 sprig fresh Rosemary, minced
1 Lemon, cut into wedges
Rosemary sprigs (for garnish)
3 Tbsp Medium Robust SOOC Extra Virgin Olive Oil
4 Tbsp SOOC Traditional 18 Year Balsamic Vinegar

Directions
Season salmon fillets to taste with sea salt, and place into a shallow, glass dish.
Whisk together the Traditional 18 Year Balsamic, Extra Virgin Olive Oil, lemon juice, garlic, and rosemary; pour over salmon fillets. Cover, and refrigerate at least 30 minutes.
Preheat an outdoor grill for medium-high heat, and lightly oil grate. Remove salmon from marinade. Discard remaining marinade.
Place the salmon fillets on the preheated grill for about 4 minutes. Resist the urge to move the fish - you want to develop nice grill marks! Carefully flip the fish and cook until it is opaque.
Serve with lemon wedges and garnish with rosemary sprigs.