It's A New Year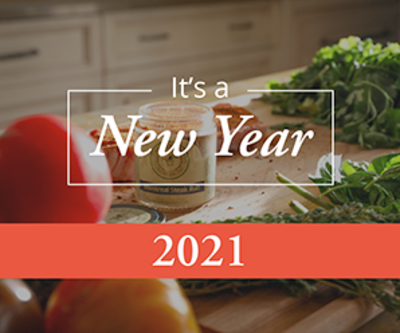 What a year 2020 has been…
This year and the COVID-19 pandemic has affected everyone differently. For many, health may have become a top priority (what else is there to do in quarantine than workout at home?), while for others it may have fallen to the wayside (what else is there to do in quarantine than binge Netflix?).
For us, health is and always has been our top priority, which is why we are so thrilled knowing that our healthy and delicious products are in the hands of more people than we ever imagined when we started our small family-owned business. So above all, THANK YOU to everyone who has purchased from us and to those who supported us through it all. We could not do it without you.
Now, for those reading who have let their health fall off track, but want to focus on it more in 2021, our extensive variety of products and flavors make eating healthy easy and enjoyable. We don't believe in trading one for the other. Our olive oils and balsamic are the perfect substitutes for fatty salad dressings, butter, canola oil, marinades, and so so much more. Our recipes section will show that the possibilities are close to endless.
New year's resolutions are often mocked, but why should setting a goal for yourself be a joke? If anything, it takes courage. Setting goals for yourself is a step in the right direction and keeps you looking forward, rather than dwelling on the past. So set those goals and be proud of yourself for doing so! If you fall off track, remember that's okay too–just get back on track the next day.
Whether your new year's resolution is to start eating healthier, focus on a KETO diet, continue eating healthy, exercise twice a week, or just make your own salad dressings, you are in the right place. Let us help you start off this near year, the right way.
We're starting our first day of 2021 with one of our favorite breakfast recipes out there – Balsamic Roasted Asparagus over Caprese Toast with Poached Egg. It's heavenly and healthy. Try it out for yourself and share your thoughts with us on Facebook or Instagram by tagging us @saratogaoliveoilco and use the hashtag #newyearsooc. We'd love to hear about some of your new year's resolutions!
Balsamic Roasted Asparagus over Caprese Toast with Poached Egg
| | |
| --- | --- |
| Dish Type: | Breakfast |
| Season: | Spring |
| Prep time: | 45 min |
| Serves: | 4 |
Ingredients
1 Bunch asparagus
4 large eggs
2 T a medium-bodied Extra Virgin Olive Oil
2 T SOOC Neapolitan Herb Balsamic Vinegar
4 slices farm bread from your local Bakery to taste
SOOC Hawaiian Red Sea Salt to taste
fresh ground black pepper
Extra Virgin Olive Oil to drizzle over toast
2 medium tomatoes, cut ½ inch thick
8 slices fresh mozzarella
1 clove garlic minced
Products used: Chilean Picual EVOO, Hawaiian Alaea Red Sea Salt, Italian Cerasuola EVOO, Neapolitan Herb Balsamic Vinegar
Instructions
Pre-heat oven to 400°F. Wash asparagus and cut ends off. Toss asparagus in SOOC Cobrancosa EVOO, SOOC Neapolitan Herb Balsamic, minced garlic, SOOC Hawaiian Red Sea Salt, and Fresh ground pepper. Place on a baking sheet and bake 25–30 min until tender and crispy.
While asparagus is roasting, on another baking sheet place 4 slices of bread and drizzle SOOC Cobrancosa EVOO on both sides. Place into the oven about 10 mins before asparagus is finished roasting, flip slices of bread, top with sliced tomatoes fresh mozzarella let toast 5 more mins or until mozzarella melted.
While mozzarella is melting poach or fry 4 eggs to over easy (outside cooked, yolk still runny) top with SOOC Sicilian Sea Salt and fresh ground black pepper. Remove Caprese toast and asparagus from the oven.
Top Caprese toast with roasted asparagus and a fried egg. Drizzle SOOC Neapolitan Herb Balsamic, Enjoy!