Steve's Story - Here Comes the Bride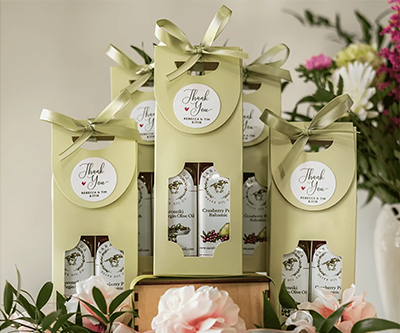 There are so many wonderful moments when working at the Saratoga Olive Oil shop on Broadway. Our days are blessed with everything from new customers experiencing an afternoon of tasting samples of our wide selection of imported olive oils and balsamic vinegars to handing out dog treats to the numerous canine friends we have visiting us daily. But, nothing delights the staff and me more than when a future bride comes in to either select or pick up favors for her upcoming wedding or bridal shower.
Coming off a year where a pandemic robbed so many young couples of their opportunity to host large weddings in 2020, these future brides are walking back into the shop with such a  joyful spirit in their heart, a renewed brightness in their eyes, and a creative awakening compelling them to do something extra special that will leave an indelible impression on all their guests.
While our staff is always eager to assist with suggestions of popular pairings of oil and vinegar, the heavy labor is done behind the scenes at our warehouse in dressing up 60ml bottles with several different packaging options to add that extra little flair to these very special occasions. I always tease a future bride when picking up the favors that 99% of the day, the spotlight will be on her. But there will be a brief moment where the focus will shift from the happy couple and all the discussion will be around the wedding favors from the Saratoga Olive Oil Company.  Invariably, it has that kind of impact on the guests.
Just the other day we had a newlywed couple come back in the shop with the bride's Mom, just to let us know how "over the top" these wedding favors were received among the guests.  Despite having a full band, a chocolate fountain, an open bar, and a limitless Viennese table at a local high-end country club, this young bride stated that "all anybody could talk about after were the little SOOC bottles of oil and vinegar they received as a wedding favor."  We had a good laugh over her observation that my warning about losing the spotlight to these products actually happened. We agreed that while everyone always loves the bride and groom at a wedding, no one really wants to have their names on a shot glass in their kitchen drawer for years to come.  But a product like our fine olive oil and vinegar is always appreciated and consumed by all.
For more information on wedding favors, just email [email protected].