Black Truffle Oil
As soon as you open this bottle, the intoxicating aroma of the rich truffles and fresh olive oil seeps into your senses. This intense truffle oil also boasts earthy essence and has hints of dry fruit. Complex and elegant!
Try this oil in our Black Truffle Mac recipe!
Black truffles are one of the most expensive edible mushrooms in the world. Found in Spain, France, and Italy, they grow close to the roots of oak, hazelnut, and cherry trees. Produced by steeping premium black truffles in extra virgin olive oil, this Black Truffle Oil is decadent with creamy vegan macaroni and cheese, perfect with cavatelli pasta, and ideal with white pizza. Do as the Europeans do and try a truffled tequila cocktail or for a special treat, drizzle over popcorn!
Pair with burrata cheese and fresh cherry tomatoes

Add depth of exquisite flavor to mashed potatoes 

Oven-fried truffled potato chips 

Beautifully dressed arugula salad

Complements both egg and potato dishes beautifully

Truffle and savory mushroom risotto
Made in Italy by true culinary artisans, there are no added extracts, oils, or flavorings to the Black Truffle Oil. We are proud to "follow the crush" and to carry the freshest extra virgin olive oils available! 
Try this oil in our Black Truffle Mac recipe!
All Saratoga Olive Oils are Kosher Certified.
Ingredients: Extra Virgin Olive Oil, Natural Truffle Flavor, WONF
Recipes you'll love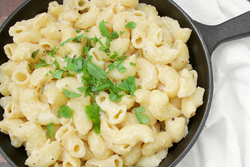 Black Truffle Mac
Our customers say it best