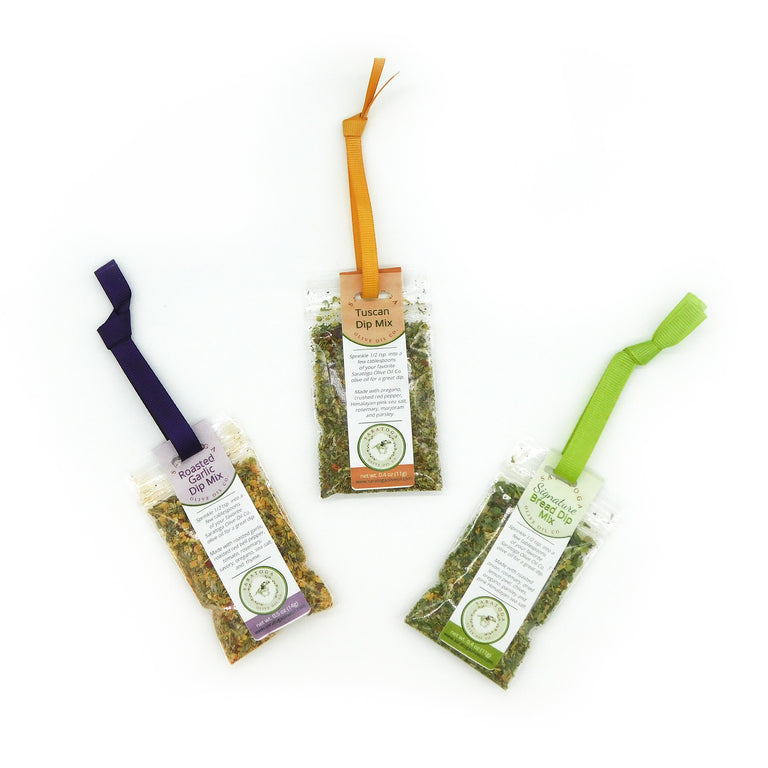 Dip Mix Trio Sampler Pack
Why choose just 1 when you can get all 3 of our favorite sample seasoning packs! Each flavorful seasoning in this trio is ground fresh right here in Saratoga Springs, NY and is sure to add the kick, zing, pow, and punch of flavor you have been searching for. Grab one or four...it's definitely hard to share these, they are that good! Makes a perfect accompaniment to any SOOC Olive Oil or Balsamic Vinegar!
Dip Mix Trio includes: Signature Bread Dip Mix, Tuscan Dip Mix, & Roasted Garlic Dip Mix
Each One Size: 0.4 oz (11g)
Signature Bread Dip Mix: Treasured by our customers, the Signature Bread Dip mix is a joyful blend of savory roasted onion, lemony rosemary, citrusy dried lemon peel, garlicky chives, earthy oregano, peppery parsley, and a pinch of sea salt. Flavorful. Fresh. Fantastic.
Tuscan Dip Mix: Fresh oregano, zesty crushed red pepper, gorgeous Himalayan Pink Sea Salt, fragrant rosemary, woody marjoram, and peppery parsley come together to bring you the perfect dip mix for your favorite SOOC Olive Oils and Balsamics. 
Roasted Garlic Dip Mix: Sometimes life just calls for garlic, and by sometimes, we mean all the time! Our Roasted Garlic Dip Mix is made with zesty roasted garlic, smokey roasted red bell pepper, bright sun-dried tomato, woodsy rosemary, slightly lemony thyme, bold oregano, peppery savory, and Himalayan Pink Sea Salt. If you love garlic, this one is for you!

Each One Size: 0.4 oz (11g)