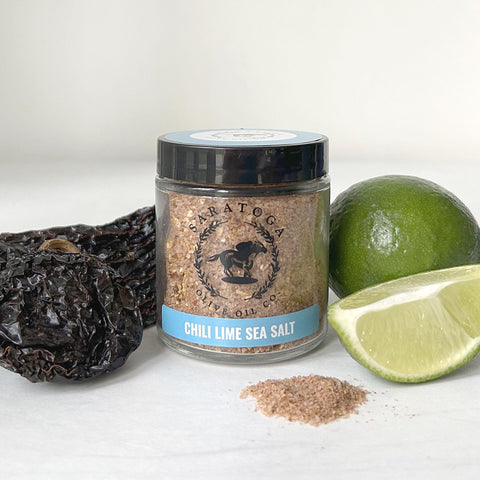 Chili Lime Sea Salt
This blend of hot and cool is perfect for taking it up a notch as a rub on meats, seafoods or veggies. Sprinkle this Chili Lime Sea Salt on anything that might benefit for some southern flair. This sea salt is high purity, food grade sea salt, produced by an exclusive process of infusing all natural spices and all natural sea salt.
Chili Lime Sea Salt Culinary Suggestions:
Rim a glass for a delicious margarita or shot glass of tequila

Homemade baked tortilla chips with lime

Street Tacos and Mexican fare

Baked kale chips with lime

Season fresh fruit like watermelon
Proudly rocking the Saratoga Olive Oil Company Emblem, each Sea Salt comes in a clearly labeled, sealed glass jar. The wide opening of the jar enables the chef to easily grab a pinch of the salty goodness. Each jar has a product weight included on the back label. More flavor, less rubbish.
Ingredients: Natural Sea Salt, Ancho Chili Powder & Lime Peel
Our customers say it best