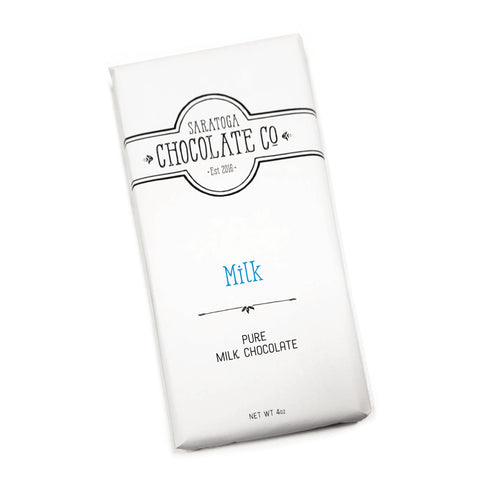 Milk Chocolate Bar
Exceptionally creamy, remarkably delicious, absolutely decadent. The perfect chocolate bar to hide from your children so they don't devour it.
** This product is Gluten Free **
Made with Single-origin Ghana milk chocolate (40% chocolate – which is a high percentage for milk chocolate). Plus, the high cocoa butter content makes it exceptionally creamy. 
Suggested uses:
melt it down and dip your preferred fruit in it (this is our favorite use)

eat it with a toasted marshmallow and graham cracker for an elevated s'more
Made in a facility that also manufactures products with peanuts and/or tree nuts.
Please Note: Unless you're hoping for chocolate fondue, ordering or shipping chocolate during the summer months may be a fon-DON'T. Our shipments are not refrigerated - Chocolate may melt or become deformed in transit.
Ingredients: Milk Chocolate (cocoa mass, sugar, milk solids, vanilla, soy lecithin)
Our customers say it best