Sicilian Limoncello Bar Syrup
Transport yourself to Southern Italy with this classic aperitif. Pour 1 part Bar Syrup and 3 parts Vodka into a glass with ice. Top with club soda for a refreshing Sicilian treat!
Our Sicilian Limoncello Artisan Bar Syrup is the perfect addition to club soda and ice for a refreshing mocktail (but feel free to include your favorite spirit - we won't judge). This Artisan Bar Syrup is also excellent drizzled on fresh-cut fruit or baby greens. Let it liven up your shrimp crostini, and for dessert, we've heard it makes a delectable sorbet.

Try in a Frosty Limon Margarita for another downright delicious cocktail.
Our artisan bar syrups begin with our Premium White Balsamic Vinegar that is then cooked down with sugar or agave nectar.  A well-balanced balsamic, along with different flavor ingredients, and you have a sensational product that adds a unique sophistication to any drink, cocktail, or mocktail. 
Shake well before use.
Ingredients: Premium White Balsamic Vinegar, Cane Sugar, Lemon Peel
Frequently bought with
---
Basil
Olive Oil
$13.95
Basil Olive Oil
---
The peppery bite of freshly picked basil melts with the creaminess of the cold pressed olives.
---
---
---
Blood Orange
Olive Oil
$15.95
Blood Orange Olive Oil
---
Whole, perfectly ripened blood oranges are crushed with fresh olives to make a beautiful Blood Orange Olive Oil that is fused with freshness and bright with flavor.
Barbara Braidwood, owner of Saratoga Olive Oil, loves using Blood Orange Olive Oil as a replacement for vegetable oil in baked goods.
---
---
---
Garlic
Olive Oil
$13.95
Garlic Olive Oil
---
One of our top reviewed products. Never mince garlic again! Infuse your cooking with this all natural garlic olive oil.
Blair, our Sales Operations & Customer Service Manager, enjoys using Garlic Olive Oil when she makes roasted potatoes.
---
---
Recipes you'll love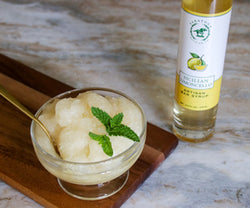 Limoncello Sorbet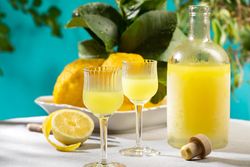 Classic Aperitif
Patty Pan-Zanella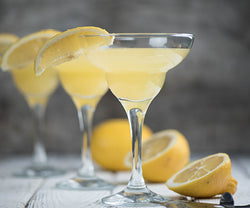 Frosty Limon Margarita
Our customers say it best