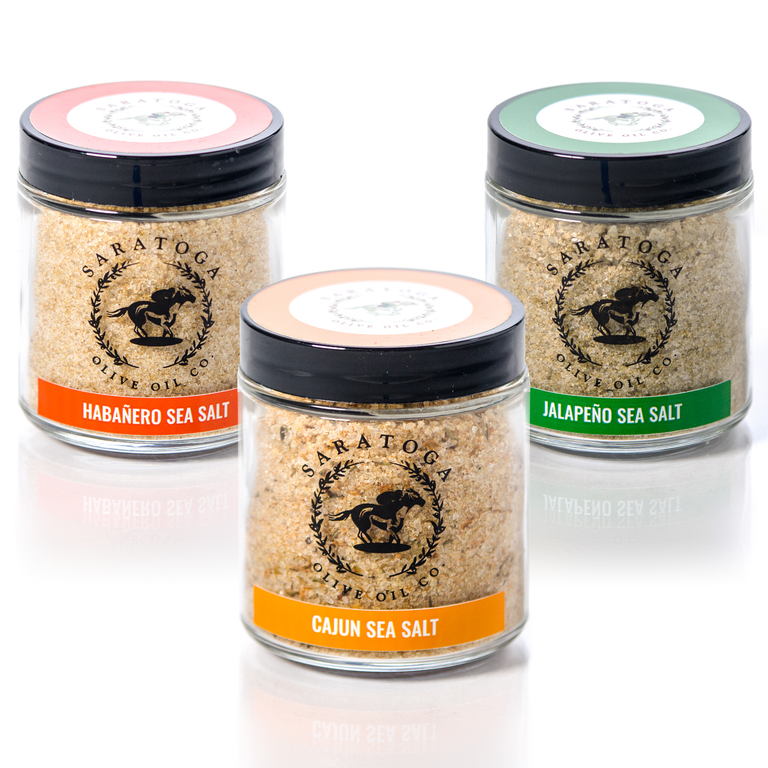 Spicy Sea Salt Trio
A whirlwind of heat sensations, if you will, that will take your taste buds on a wild ride. Experience the smolder and kick of the habanero pepper, the bang of the fiery hot jalapeño, and the zesty zip of the cajun blend of spices. Any well seasoned food lover will relish in the sinfully delicious explosions of flavor this set imparts on both meals and beverages.
What's included: 
Habanero Sea Salt: With a prompt heat arrival sure to awaken your senses, our Habanero Sea Salt is created using high-quality, high-heat habaneros. Perfect for anyone that likes to add an extra punch to recipes, we caution that less is more when adding this fiery friend to your next feast or fare.
Jalapeño Sea Salt: Take a vacation cutting board, there's a new way to add fiery hot flavor to your food without the chop of this blazing pepper. Take your tongue traveling on a wild ride with the natural blend of sea salt and authentic jalapeños. From the garden to the grill, complementary foods will line up for a chance to rub elbows with this superstar.
Cajun Sea Salt: What do New Orleans, Louisiana, and the Bayou have in common? Good Food with a Great Kick! Our Cajun Sea Salt is a zesty blend of high-quality spices which include paprika, chopped onion, garlic, and chilies.
*Note: Each sea salt included in our trio packs are full-size jars - approximately 4oz.