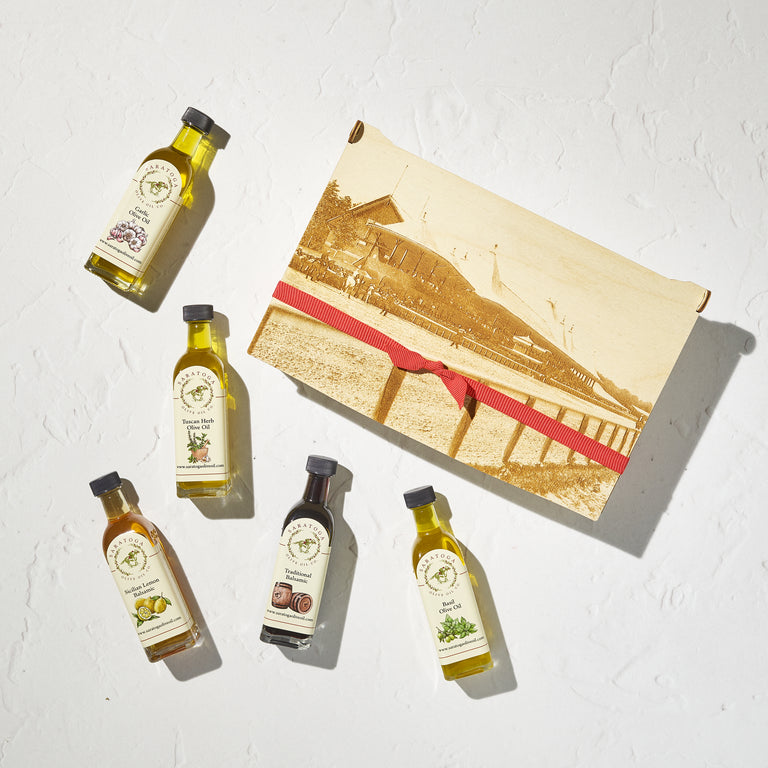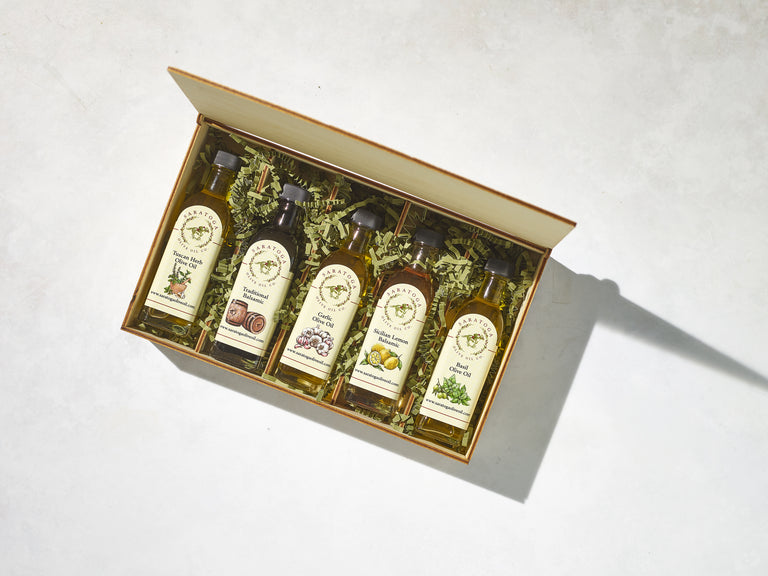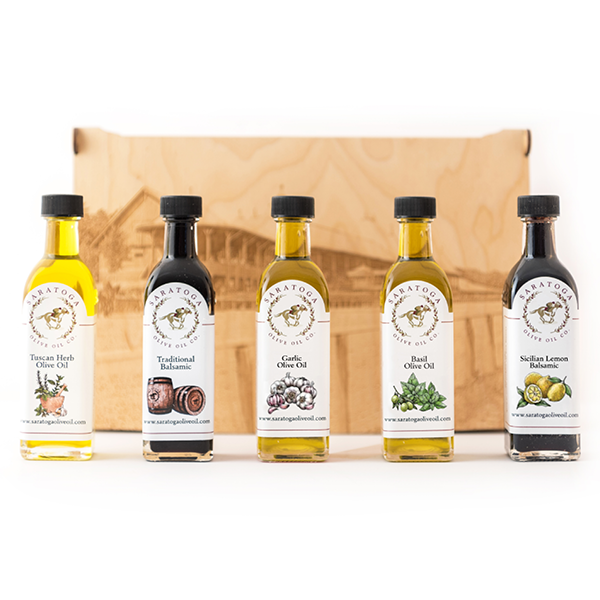 Track Box with 60 mL Bottles
The memorable image imprinted on the front of our infamous Track Box is an early photo dating back to the year 1900. Made from Baltic Birch right here in Saratoga Springs, NY., this noteworthy box encapsulates the history of the Saratoga Race Track. Makes a wonderful memento for those who love and cherish the Saratoga community and the remarkable history here. Truly a gift to admire and display.
Flavors Included: Tuscan Olive Oil, Traditional Balsamic, Garlic Olive Oil, Sicilian Lemon Balsamic and Basil Olive Oil.
Please note: This collection includes our 60ml sized bottles.
Flavors Included:
Tuscan Herb Infused Olive Oil - Savor the fresh herb blend of oregano, basil, garlic, and rosemary as the infused, full-bodied merge of flavors elevates your next pasta, chicken, or vegetable dish!
Garlic Infused Olive Oil - The rich flavor of organic slow-roasted garlic! Since garlic and olive oil are almost always used together in Mediterranean cooking, you can use this infused olive oil in just about anything.
Basil Infused Olive Oil - The peppery bite of freshly picked basil melts with the creaminess of the cold-pressed Koroneiki olives. The refreshing green herb taste works especially well with Caprese salad, pasta, fish, legumes, and grilled vegetables.
Traditional Balsamic Vinegar - Aged up to 18 years in wooden oak barrels, our best-selling balsamic vinegar from Modena Italy is tantalizing on the taste buds. Very complex, thick, and potent enough to be dripped onto a dish as a condiment yet balanced enough to pair well with one of our olive oils in a salad dressing.
Sicilian Lemon Balsamic - A culinary kitchen adventure awaits as you dive into this sweet, vibrant, and versatile balsamic vinegar!