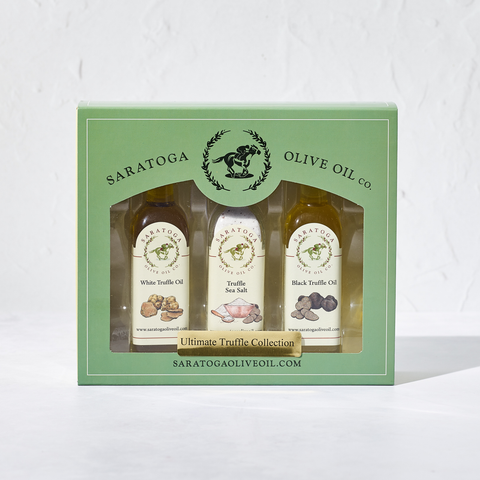 Ultimate Truffle 60ml Three Pack
This Ultimate Truffle 60ml 3 pack is the perfect gourmet gift for the truffle fan. The pack includes 60ml sample bottles of our White Truffle Oil, Black Truffle Oil, and Truffle Sea Salt, perfect for adding a touch of luxurious truffle flavor to any dish!
Products included:
White Truffle Oil: Often compared to shallots with a musky finish, our White Truffle Oil is traditionally made in an artisan fashion without the use of any extracts! It is great on risotto and pasta dishes. Try misting it over white pizza, stirring it into mashed potatoes, and folding it into jasmine or basmati rice. Fancy up your next basket of French fries and it is a-maize-ing drizzled over your next batch of popcorn. 
Truffle Sea Salt: Truffles have such a loyal following amongst food lovers. This difficult to farm fungi friend can be expensive, but oh is the flavor worth it. When the musky, almost garlicky flavor of the dehydrated black truffle is enhanced with pure sea salt, the result is a seasoning blend destined to take center stage in your next dish. This uniquely rich black truffle salt can be used in food preparation, or enjoyed as a finishing salt. We think you are going to love this culinary delicacy.
Black Truffle Oil: Black truffles are one of the most expensive edible mushrooms in the world. Found in Spain, France, and Italy, they grow close to the roots of oak, hazelnut, and cherry trees. Produced by steeping premium black truffles in extra virgin olive oil, this Black Truffle Oil is decadent with creamy vegan macaroni and cheese, perfect with cavatelli pasta, and ideal with white pizza. Do as the Europeans do and try a truffled tequila cocktail or for a special treat, drizzle over popcorn!
Our customers say it best