Ask Barb - Holiday Shopping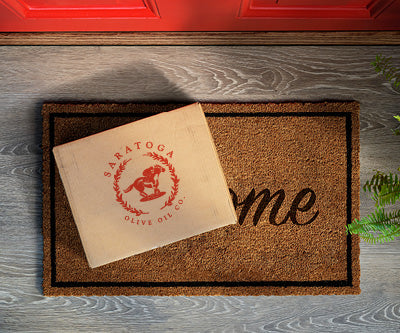 Barbara Braidwood is one of the founders of Saratoga Olive Oil Co. She enjoys educating our consumers about the health benefits of extra virgin olive oil and balsamic vinegars and how to incorporate them into a healthy, balanced diet.
Dear Barb,
I can't believe that the holiday season is upon us! Each year I give your products to my family and friends for Christmas. It has become somewhat of a holiday tradition! 😀
I am writing to see what shopping with Saratoga Olive Oil Co. looks like this year. I usually order my gifts at the beginning of December and have not had a problem with items being in stock or arriving on time. I appreciate any input that you may have.
Celia St. Amant
Boulder, CO
Hi Celia,
Thank you for thinking of us for your holiday gifts! I also cannot believe the holidays are right around the corner. This time of year seems to fly by!
You will be happy to know that we are well stocked with gifts for everyone on your list. You will also notice that we are offering some new gifts this year as well, so please be sure to check out everything in our Holiday Gift Guide.
As far as timing goes, we use FedEx for all of our shipping. FedEx was reliable last holiday season and delivered our packages in a timely manner. However, lately we have noticed a trend of packages taking an extra day or two to arrive at their destinations. That said, I am personally encouraging our customers who plan to ship gifts to loved ones to ship a week or two earlier than they normally would, to avoid any major delays.
 Per the 2021 FedEx Calendar for Holiday Shipping, below are the estimated final days to send packages and have them arrive in time for Christmas*:
Priority Overnight – Dec 23rd
*Note: We receive hundreds of orders every day at our warehouse. Each order takes time to process, ensuring shipments are accurate and packed safely. Although we always strive for a fast turnaround time, orders may take up to 5 days to process during our busy holiday season. Please take this processing time into consideration when placing your order.
To encourage our customers to shop early this season, we have been offering some of our late November/early December holiday sales earlier than usual. We will continue this trend throughout the weeks to come. So keep an eye out for a deal that suits your gifting needs. 
Thank you again for being a loyal customer Celia. I hope that you have a wonderful holiday season and a happy and healthy 2022!
Happy Cooking,
Barb
Have an olive oil, balsamic vinegar, cooking or other question for Barb?
Email [email protected]