Ask Barb - Wedding Favors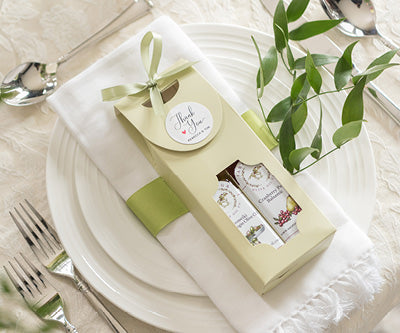 Barbara Braidwood is one of the founders of Saratoga Olive Oil Co. She enjoys educating our consumers about the health benefits of extra virgin olive oil and balsamic vinegars and how to incorporate them into a healthy, balanced diet.
Dear Barb,
My daughter, Brooke, got engaged on Christmas Day! She and her fiancée, Matthew, are huge fans of your olive oil and balsamic vinegar. When I visited your shop in Saratoga last October, I noticed that you had samples of party favors on display. We all think that your olive oil and balsamic would serve as a perfect thank-you for their guests. 
Would you please tell me a little bit more about what you have to offer? What is the process of placing an order? Do you ship favors?
Excited Mom, Renee MacDonald
Syracuse, NY
Hi Renee,
Congratulations on your daughter's upcoming wedding! What an exciting time for you all. I would be happy to provide some information on what we have to offer as well as the process for ordering our wedding/party favors.
Most couples choose our 60ml party-size bottles of olive oil and balsamic vinegar for their wedding favors. The first step is for the couple to decide if they would like either single bottles or pairs. All of our flavors of oil and balsamic are available to choose from. If inspiration is needed, we are happy to provide a list of our most popular flavors and pairings. 

The next step is to decide whether the favors will be decorated or undecorated. If decorated, the fun part is choosing what color ribbon and custom tag works best. Our most popular boxed pairs (in an ivory, sage green or blue/gray box) also include ribbon and custom tag. Other options include either an elegant cellophane wrap, or a beautiful hand-made custom wooden box that houses a pair of bottles. 
If larger bottles are desired, we also offer our 200ml, 375ml and 750ml bottles at a bulk discount. We offer both decorated or undecorated options for those larger bottles as well.
 To see pictures and pricing of all our wedding and party favors options, please visit our Wedding Favor page: 
https://saratogaoliveoil.com/pages/wedding-party
You may also reach out with questions by emailing: [email protected]
When you visit our Wedding Favor page, fill out the Wedding Favor Request Form. That will give us some basic information about your order details and timeline. A representative will be in touch within 24 hours to work with you on the finer details.
And lastly, yes, we certainly do ship favor orders! We will work with your timeline to determine the best time to ship your favor order. 
Best of luck to your daughter and fiancée. We hope that the wedding is beautiful!
Happy Cooking,
Barb
Have an olive oil, balsamic vinegar, cooking or other question for Barb?
Email [email protected]