Get More Saratoga Olive Oil with Subscriptions!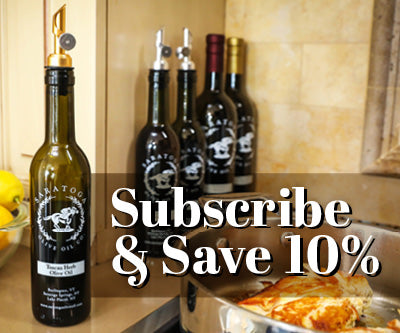 Can't live without your Saratoga Olive Oil? Neither can we! Which is why we're launching our very own subscription service so you never run out of your must-have products! Start a subscription and have your can't-live-without Saratoga Olive Oil products delivered to your door. Sign up for a subscription and save 10% on your favorite olive oils or balsamic vinegar!  
Have questions about our subscriptions? Check out these Frequently Asked Questions.
FAQs:
How do Subscriptions work?
Sign up for a subscription and receive 10% off. Get your favorite Saratoga Olive Oil product(s) delivered right to your home every 1, 2, 3, 4, 5, or 6 months. Don't need one every six months? The frequency of deliveries can be changed after the initial order has been placed so you can customize how often you want your subscription to arrive! Subscription orders will automatically be placed and you will receive an email notification before any upcoming orders.
How can I manage my subscriptions?
All subscriptions can be managed through your

customer account

. If you don't have a customer account with us, click 'Need help accessing your subscriptions' in the log-in page and enter the email address used to place the subscription order. You will then be sent a link to create an account, or temporarily be able to manage your subscription without an account.
I can't finish a bottle in 6 months, can I change the frequency?
Yes! You can customize how frequently you will receive your subscription orders to as little as a few days to up every 12 months.
How and how often will I be charged?
The card that was used when placing the initial subscription will be charged each time an order is processed. You can manage the date the order will be placed and processed, your shipping address, and your billing information through your customer portal.
Will I be notified when a subscription order will be sent?
Yes! We will notify you via email when a subscription order is coming up as a reminder and let you know that your card will be charged.
Do I have to pay for shipping for my subscriptions?
You will be charged for shipping on all orders less than $100. Don't want to pay for shipping? Add on to your subscription, or add one-time products to your order through your customer portal to reach the free shipping threshold.
I'm going on vacation but don't want to cancel my subscription, can I skip a shipment?
Yes you can! You can skip a shipment without having to cancel your subscription through your customer portal. When you skip a shipment, you won't be charged until your next shipment.
How do I cancel my subscription?
You can cancel your subscription through your customer portal. Simply choose which subscription you would like to cancel, and cancel right through your portal. If you need further assistance, contact our customer support. *Note that skipping a shipment is different than canceling your subscription. 
Can I change how often my subscriptions are delivered?
Yes! After placing your initial subscription purchase, you can customize the frequency of your subscription in your customer portal.
Can I use a coupon for subscriptions?
Unfortunately, coupons will not apply for subscription purchases. 

 
What does the 'Order now' button do?
You can select the Order now button in your customer portal to request your subscription product immediately. When selected, the system updates the charge date and processes your next upcoming order right away.

The queued charge that is created after this order uses the same order frequency as is set on the subscription. For example, if the subscription is scheduled every two months and you click 'Order Now' on November 4th, your order will be placed and the next queued order will be generated for January 4th.
Don't see your question here? Contact us here or through our chat support located at the bottom right hand corner of your screen.