Local Vendor Spotlight - February
Company Name:
Saratoga Chocolate Co.
Where are you located?
Saratoga Springs, NY and North River, NY
What's your name?
Allison Rose
Why did you start your business?
I'm passionate about creating food, flavor, and especially CHOCOLATE! I've been working with chocolate for over 15 years. It started as a self-taught hobby (my very first batch of truffles were a Christmas gift to my husband the first year we met). After that, the truffles took on a life of their own – requested annually from my family, then for weddings, and eventually for a friend's wine bar. When my professional career started to feel too stressful and rote, I decided it was time to create something new. I love being creative, and my husband and I have always dreamed of starting and running our own business. Chocolate seemed like the obvious choice for where to go with our dreams!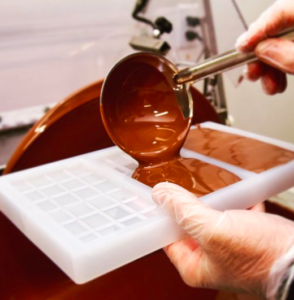 What's your favorite part about what you do?
Experimentation in the kitchen! I LOVE creating new flavors, textures, products… And I live for seeing the excited reactions I get from people when they try something new and enjoy it as much as I do! Good chocolate makes people happy – and that makes me happy.
What's your favorite product that you make?
How does one pick a favorite child!? If I must, I suppose I really like our Toasted Sesame bar (because it's unique) and our Dark Chocolate hot chocolate mix is exceptional – I've never found any other hot chocolate mix that even comes close in comparison.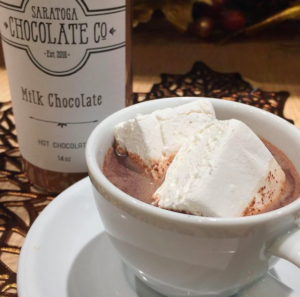 What's your favorite Saratoga Olive Oil Company product?
Fig Balsamic! I can eat it straight off a spoon… in fact, I might be doing that right now……
Tell us more! What would you like our customers to know about you, your family, and your business?
My husband Hank and I are business partners, parents to an amazing and precocious 7-year old, dog lovers (our wheaten terrier has his own chocolate bar named after him – that's the Bodhi bar if you're wondering), dreamers, outdoors people, and pretty down-to-earth fun company (if I can say so myself). We split our time between Saratoga Springs and North River, NY where my husband was raised. The pandemic has made for a tough year in small business, but it's helped us to recognize our passion for what we do – and our deep appreciation for all of our customers and chocolate lovers out there. The support that we've received this year gives us faith in what we're doing, and plan to do for a long time to come!!
Check out all the amazing Saratoga Chocolate Co. products that we sell right here, online, at Saratoga Olive Oil Company!