Sping Cleaning Event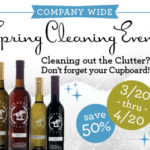 Hey Locals!!  Our much anticipated Spring Cleaning Event is back from 3.20.19 – 4.20.19.  Get 50% off a bottle(s) of Saratoga Olive Oil EVOO and Balsamic Vinegar.  Tell your friends and family that have never been into Saratoga Olive Oil and let them experience freshness!
---
How does it work?  Simply bring in any other brand of olive oil and/or balsamic vinegar and we will exchange it for a Saratoga Olive Oil bottle at 50% off.  We want you to try Saratoga Olive Oil and be part of the our family!  
When is it?  Wednesday March 20th – Saturday April 20th
Is the event happening at all locations?  What about online?  Yes, all locations.  Not online.  Don't worry online shoppers, we have some wonderful promos for you coming up as well!
Can I bring in more than one bottle to exchange?  Yes.  
Does the bottle have to be full?  No.  
What happens to all the bottles for exchange?  We donate them to local homeless shelters.
---
Hey S.O.O.C enthusiasts!!  Make sure to pass on this special savings event to anyone that does not know about us.  It is a wonderful way to share in the EVOO revolution!
Thanks for reading – Clint Braidwood, owner