Steve's Story - Addition by Subtraction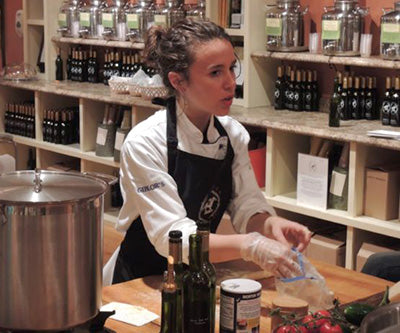 On any given day in Saratoga Springs, during the very busy summer horse racing season, out-of-town guests enter our Saratoga Olive Oil Shop, delighted by the opportunity to once again engage in tastings of delicious oils, vinegars, spices, and salts. For many, this is their first visit since the summer of 2019. Moments after sharing their joy for having returned to what many call their favorite spot on Broadway and mentioning how beautiful the shop looks, their gaze falls to the counters. Noticeably missing this year are the stacks of tasting cups and domes of fresh focaccia bread to support our usual 'self-service' tasting model. Panic strikes and within seconds, the question bellowed out by the boldest person in the group is, "Are we able to still do tastings?"
The simple answer is 'ABSOLUTELY!' We would not be much of a tasting gallery if we did not offer tastings of our products. Bread and self-service have now been replaced by a knowledgeable and warm staff of tasting consultants – donning gloves and aprons – eager to assist anyone in their tasting endeavors. Within seconds, I have watched faces of disappointment quickly transform into that of delight once the tasting commences, even without the bread. In no time, guests, with the assistance of the staff, are mixing oils, vinegars, and salts in their tasting cups, letting their culinary imaginations loose while enjoying the wonderful flavors of the products. Our staff offers up potential uses of the products while stirring up some of their favorite blends to share.
The mantra of the team has even become "We Serve. You Sip." And the results have been amazing. Ironically, by removing the bread and changing the process slightly, customer satisfaction and overall experience have improved, as the relationships cultivated between staff and patron have become further enriched. Just last week, a customer came in with many fresh, home-baked goods, made using our products, to share with staff as a way of thanking them for the help she'd received while in our shop.
Life can be funny like that. Often, we hang on so tightly to something out of fear that we may not be as popular or well-liked without it.  In reality, when we are courageous enough to trust in who we are and let go of some of those elements we put so much emphasis on, we create space for new and wonderful experiences to emerge. In this case, the simple subtraction of self-service tastings has turned the focus away from the counters of cups and bread, and back to each other. There has been no greater addition to the shop experience than our restored human connection.