Steve's Story - Look for the Helpers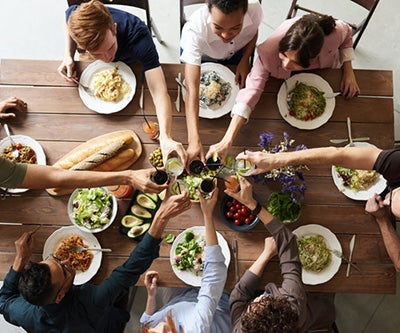 Steve Rosato is the manager of the Saratoga Olive Oil Co. store in Saratoga Springs. In these blog posts, he shares his wit, wisdom and experiences engaging with our wonderful customers.
"When I was a boy and I would see scary things in the news, my mother would say to me, 'Look for the helpers. You will always find people who are helping'." – Fred Rogers
A beneficial shopping trip
Recently, a familiar customer approached me on a busy Saturday afternoon, to say that she comes in to stroll through the shop quite often. Rarely, does she have a purpose or a list of items to buy. And, many times, she leaves without having purchased anything. But, she wanted to let me know that while she may not always leave with bags in her hands, she always walks out with more than she walked in with.
She expressed how "amazing" the staff is in their constant offers to assist and that they treat her like family. She expressed that it reminded her of her late Italian grandmother who always provided a welcoming house of warmth, was eager to hear about the lives of those who entered, and was passionate about cooking and feeding all who walked through her front door.
The love of food and joy of cooking unite us
In these unknown times where divisiveness seems prevalent and the future uncertain, love of food and the joy of cooking is a commonality at the Saratoga Olive Oil shop that sees no race, religion, or gender.
Stop in the shop sometime and, as Mister Rogers might say in the Neighborhood, "look for the helpers. You will always find people helping." I can assure you, on behalf of the staff, it is our pleasure to be of service. Grazie!!