What We're Cooking This Season: Rhubarb!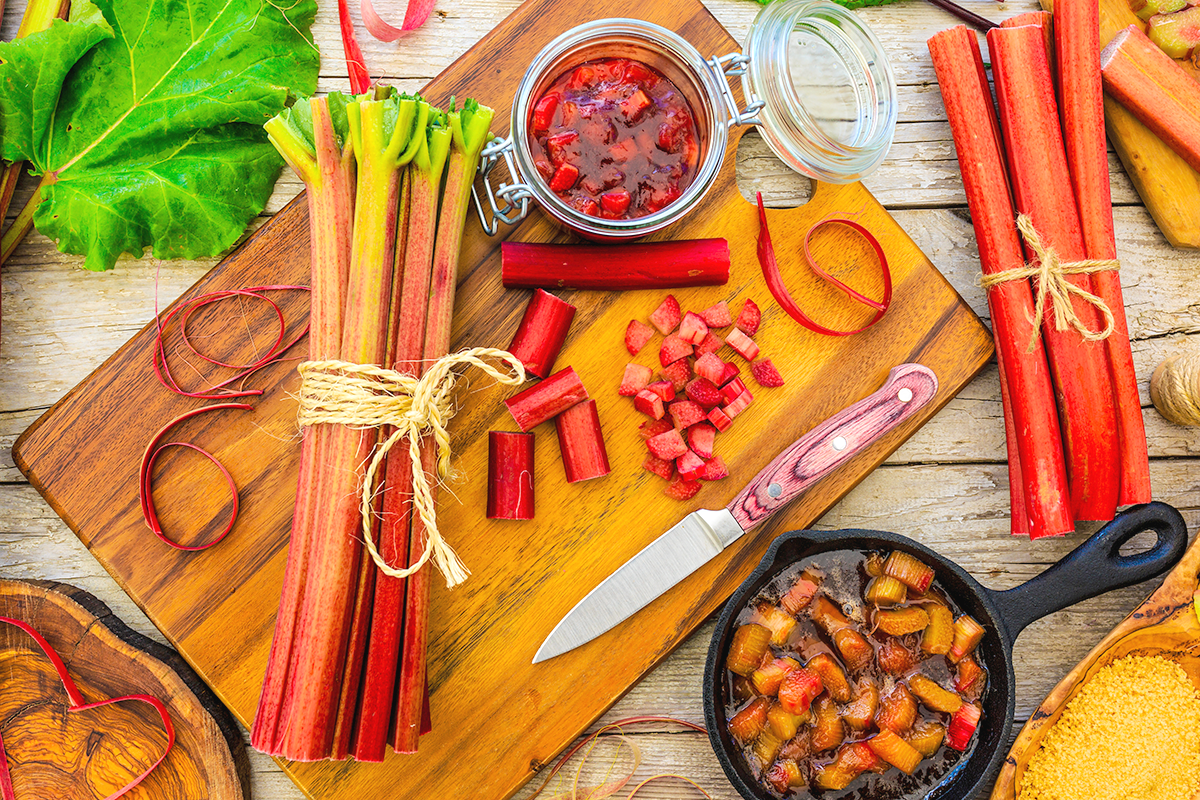 What grows for over 10 years, will grow in climates as cold as USDA zone 2, and is refreshingly easy to grow? It's rhubarb! This vegetable (yes, vegetable, not a fruit) has a tart flavor used to make pies, crumbles, jams, jellies, sauces, and salsas.
Rhubarb is a spring vegetable with a vibrant red/pink or green stalk. The red stalks have a stronger, sweeter, and more robust flavor than the green stalks, but both are fine to cook with. The stalks are the only edible part of the rhubarb plant, the leaves and roots of the rhubarb plant are toxic, so make sure not to ingest them! The stalks have a rich, tart flavor when cooked, adding a new and interesting flavor to dishes.
Raw rhubarb is quite tart and sour, but when cooked into dishes, is much more pleasant; a bit tart with a subtle vegetal flavor. Many people associate rhubarb with strawberries because they come into season around the same time and the sweetness of the strawberry helps offset the tartness of the rhubarb (think Strawberry Rhubarb pies). But rhubarb isn't just for desserts, it can be used in savory dishes too!
To store rhubarb, cut the stalks and refrigerate them in a covered container or tightly wrapped in plastic or aluminum foil. Rhubarb can be kept fresh in the refrigerator for a couple weeks. Or you can freeze them by cutting the stalks and storing them in a covered container or ziploc bag and storing in the freezer for up to a year.
So what are you waiting for? Try your hand with rhubarb this spring!
Need some ideas? We have some delicious Rhubarb recipes for you to try:
Rhubarb Hot Pepper Jelly: Does your garden grow rhubarb faster than you know what to do with it? Tired of baking pies? Make a hot pepper jelly! Making jelly can sound intimidating, but I promise… This recipe makes it so easy! Perfect for charcuterie boards, toast, or grilled meats!
Rhubarb Salsa: Did you know? Rhubarb is often thought of as a fruit, but it's actually a vegetable! When paired with strawberry in a pie, rhubarb's true tart flavor gets hidden by all that sugar. This salsa recipe embraces that mouth-puckering sour and pairs it with our spicy Jalapeno Balsamic and Spicy Garlic Sea Salt!
Strawberry Rhubarb Pie: It's that time of year again where gardens, grocery stores, and farmers markets are filling up with fresh delicious strawberries! Not just strawberries, but you'll see lots of Rhubarb too! Throw on that apron and get baking! The sweetness of the strawberries, the hint of sour from the rhubarb, and pinch of herb from our Basil Olive Oil in the crust brings this decadent dessert to the next level!