Garlic Rosemary Sea Salt
This salt has a rich garlic and rosemary flavor with a characteristic salty taste. This Garlic Rosemary Sea Salt is high purity, food grade sea salt, produced by an exclusive process of infusing all natural spices and all natural sea salt. The perfect combination of natural sea salt with garlic and rosemary creates this amazing flavorful experience. Use for cooking, rubs, and toppings on all of your favorite foods!
Garlic Rosemary Sea Salt Culinary Suggestions:
Use as a finishing salt for cooking or baking

Grilled, braised, baked, or fried chicken 

Bolognese sauce gets an upgrade

Scrumptious with artichokes, eggplant, and onions

Pot Roast and beef stew

Fresh bread and rolls

Compound butter, thick gravies, and garlic cream sauces
Proudly rocking the Saratoga Olive Oil Company Emblem, each Sea Salt comes in a clearly labeled, sealed glass jar. The wide opening of the jar enables the chef to easily grab a pinch of the salty goodness. Each jar has a product weight included on the back label. More flavor, less rubbish
Ingredients: Natural Sea Salt, Garlic & Rosemary.
Recipes you'll love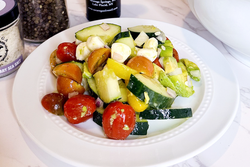 Tomato Avocado Salad
Our customers say it best