Gravenstein Apple Balsamic & Rosemary Olive Oil
Gravenstein Apple Balsamic Vinegar: A rustic and succulent apple from northern California, this apple varietal is often hard to find due to the short growing season and the sometimes overly stubborn trees that produce the fruit. This sweet concoction is excellent in cabbage slaws, summery cocktails, and autumnal salads. Bake this Gravenstein Apple Balsamic Vinegar into apple crisp, swirl into cinnamon streusel, and sprinkle into summery fruit pies for a sinfully fresh taste. 
Rosemary Fused Olive Oil: Dried herbs are amazing, but our Rosemary Fused Olive Oil really stands out as a superior option. Conveniently stir in soups, or enjoy with freshly baked bread! As a popular addition to lamb and pork chops, this oil pairs well with our Gravenstein Apple Balsamic. Perfect for roasting chicken, lamb, potatoes, and root vegetables.
Try this recipe: Balsamic Glazed Pork Tenderloin & Rosemary Vegetables
Also Try: Rosemary Carrot Risotto and Creamy Tomato Apple Soup
Note: We give Popular Pairings permission to arrive in regular packing materials. They decided a gift box just wasn't for them. If these are a token of happiness for a loved one, friend or family member, simply fill out the gift message section at checkout and we will be sure to include the note when these are shipped. Thank you!
Recipes you'll love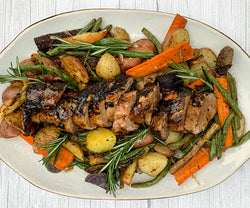 Balsamic Glazed Pork Tenderloin & Rosemary Vegetables
Our customers say it best