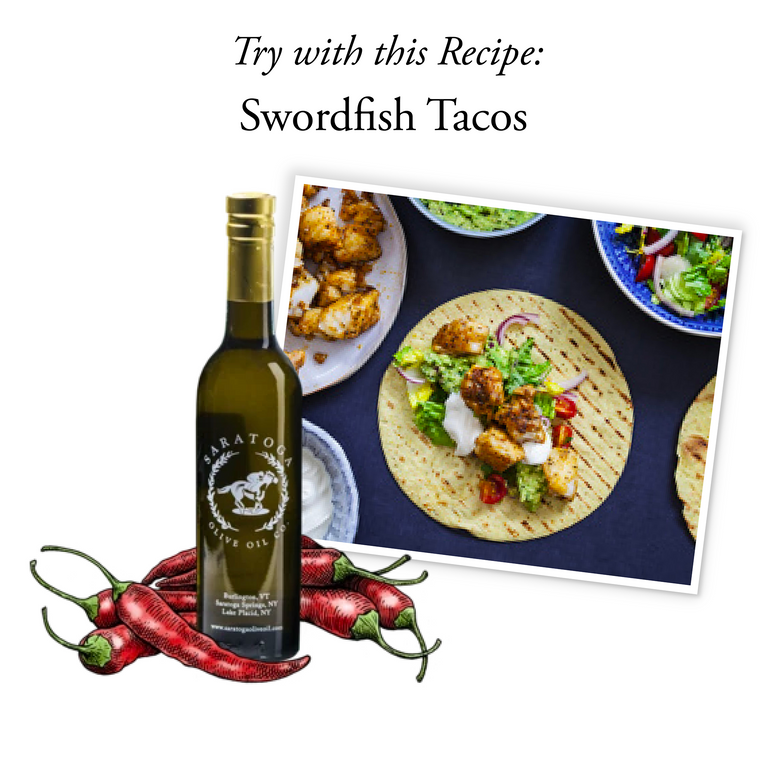 Red Cayenne Chili Olive Oil
Exquisitely fused with cayenne chilies, this extremely hot olive oil is the hottest that we carry. With a persisting heat, the flavor of the Red Cayenne Olive Oil is plentiful and determined to add excitement to any dish.
Product Description
Ingredients
Recipes
Pressato is the Italian word for "pressed" which is a popular method used for crushing ripened olives and fresh Red Cayenne chili peppers simultaneously. Punch, Wow, and Zing! This superhero Red Cayenne Chili Olive Oil infuses a heat and spice sensation to every piece of food it connects with. Made by crushing natural, whole, and just harvested cayenne chilies with extra virgin olive oil, the pair are fused for two hours before decanting and filtering. Out of this world magnificent with couscous, salsa, roasted lamb, and chicken. 
Unbelievable with shrimp and seafood

Bbq approved

Add heat to rice and jambalaya 

Red sauce approved

Spicy turkey or beef chili upgrade

Sweep over roasted and sauteed veggies
Ever chop or dice up a red cayenne pepper then accidentally touch your eyes or face? Splashing this olive oil on your meals prevents that feeling. You are welcome.
All Saratoga Olive Oils are Kosher Certified. 
Ingredients: Extra Virgin Olive Oil, Cayenne Chilis
Frequently bought with
---
Honey Ginger
White Balsamic Vinegar
$13.95
Honey Ginger Balsamic Vinegar
---
Take out fake out with the amazing combination of our Honey Ginger Balsamic Vinegar and Sesame Oil. Better for your...
---
---
---
Grapefruit
White Balsamic Vinegar
$13.95
Grapefruit Balsamic Vinegar
---
With subtle grapefruit notes, this slightly tangy Grapefruit Balsamic Vinegar is a showstopper with salads. We typically recommend pairing with olive oil, but...
---
---
---
Traditional 18-Year
Dark Balsamic Vinegar
$13.95
Traditional 18-Year Balsamic Vinegar
---
Every year of its aging journey adds layers of depth, creating a masterpiece that's much more than just vinegar. This luxurious condiment is...
---
---