Sicilian Lemon Balsamic & Milanese Gremolata Olive Oil
Our Milanese Gremolata Olive Oil is a fabulous Italian blend of zesty garlic, fresh lemon zest, and peppery parsley. As soon as you introduce this sassy olive oil to our Sicilian Lemon Balsamic, you will reap results that are fabulously light and fresh. A wonderful lemon taste with hints of garlic and herbs, this duo is perfect for spring salads, grilled chicken, and fancy pasta dishes.
Try this recipe: Milanese Lemon Chicken
Sicilian Lemon Balsamic Vinegar: Bottled salad dressings be gone! From sweet dessert creams and heavenly meringues to savory chicken, pasta, and bread, the possibilities are endless with this pleasantly sweet, yet decidedly sharp Sicilian Lemon Balsamic Vinegar. Top this bottle with one of our self-closing pour spouts! It is the perfect accessory as this will balsamic will never be too far from your reach.
Milanese Gremolata Infused Olive Oil: Typically muddled together using a mortar, the pungent oils from the herbs and citrus wonderfully compliment a large variety of dishes. Exquisite in Greek and Italian-inspired dishes and fabulous for brining poultry. Marinate and roast cruciferous veggies like cauliflower, brussel sprouts, and kale! You will love the versatility of the Milanese Gremolata Olive Oil in every dish from soups and pasta, to meats and seafood!
Try this recipe: Milanese Lemon Chicken
Note: We give Popular Pairings permission to arrive in regular packing materials. They decided a gift box just wasn't for them. If these are a token of happiness for a loved one, friend or family member, simply fill out the gift message section at checkout and we will be sure to include the note when these are shipped. Thank you!
Recipes you'll love
Orzo Pasta Salad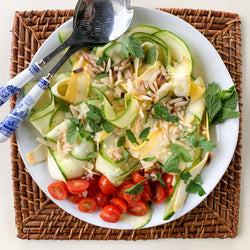 Zucchini Carpaccio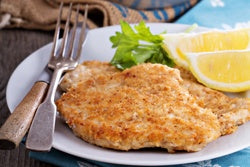 Milanese Lemon Chicken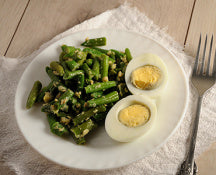 Green Beans and Eggs
Our customers say it best