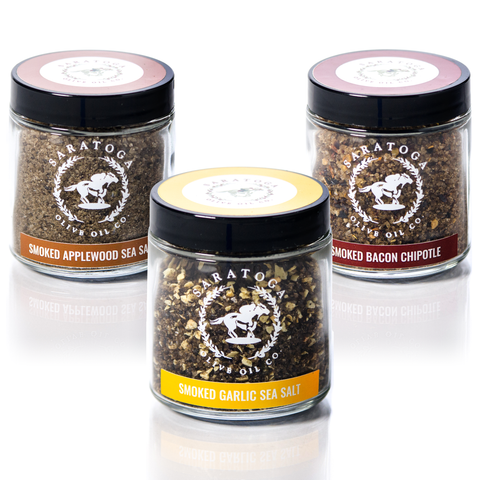 Smokey Sea Salt Trio
From the cured flames of Alderwood and Applewood comes the fragrant smokey flavor that infuses each batch of natural sea salt crystals. Culinary artists will enjoy these seasonings throughout the calendar year...open flame and backyard grilling optional.
What's included:
Smoked Garlic: Leisurely smoked over Alderwood, the flavor of minced garlic combines with large salt crystals to bring you a fantastic blend of smoked sea salt that is on fire with flavor. If you enjoy this close cousin of the onion, leek, and shallot family, you will especially love the added depth of smokey flavor this pal imparts on your dishes.
Smoked Bacon Sea Salt: Slow and low over chipotle pepper infused Alderwood is how the natural smoked bacon flavor infuses this pure sea salt. In addition, we think bbq grills and smokers should be used year-round. There is just nothing like the taste of a charbroiled burger or steak, and we want to help add some zippy southwestern flavor to your next date with the grill. This crowd-pleaser has all the flavor you would expect, and more. You'll need a few jars of these because they will disappear. Add some smokiness to your grub today!
Smoked Applewood: Double the smoke, double the flavor! This natural sea salt has been smoked slowly and laboriously over applewood timber until each salt crystal has captured the unique, flavorful, and smoky aroma. Whether you are outside by the grill and smoker or enjoying a hearty meal at the table, this smoke lover's sea salt is sure to add an extra burst of flavor to your meals!
*Note: Each sea salt included in our trio packs are full-size jars - approximately 4oz.  
Our customers say it best