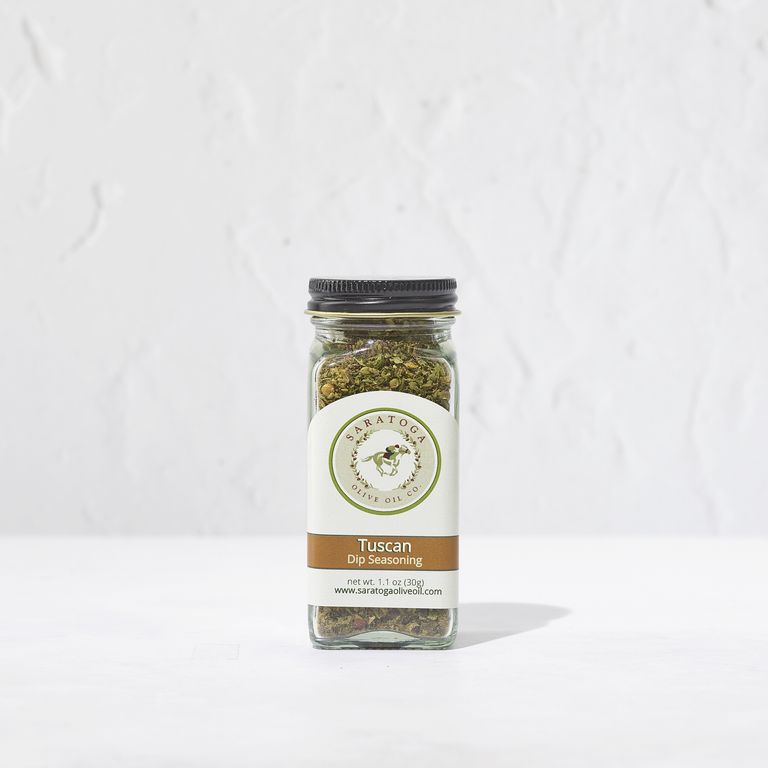 Tuscan Seasoning
From the rolling countryside to the majestic architecture, Tuscany is the perfect place to enjoy gorgeous views, spectacular history, and the finest foods. Our Tuscan Seasoning marries fresh oregano, rosemary, marjoram and parsley. When you couple this with a generous foundation of Himalayan Pink Sea Salt, you have the perfect all purpose blend to savor.
Small: 0.38 oz | Large: 1.1 oz
Product Description
Recipes
There really is nothing stopping you from declaring yourself king of the kitchen when you've entrusted this sidekick to your cuisine. Scatter this herb loosely throughout breadcrumbs and freshly baked bread. Combine with Extra Virgin Olive Oil to create a delectable bread dip and toss gingerly into pasta with both red and white sauces. Speaking of, it is magnificent with pizza, pizza dough, pizza toppings, pizza cheeses (you get where we are going), so pile on the good stuff. Take a spin on the healthy side with some fresh mozzarella, garden-grown tomatoes, and a drizzle of your favorite SOOC balsamic vinegar. Finally, it really is the perfect flavor boost to your favorite oil and balsamic pairing for the BEST salad dressing!
You can also hydrate this herb mixture by mixing it with a splash or two of your favorite SOOC Olive Oil! The thickness consistency of the paste is dependent on how much liquid you add. 
Thrilled to include that our Tuscan Seasoning is ground fresh right here in Saratoga Springs, NY.
Large: 1.1 oz