Catch Us at the Winter Village Holiday Market in Bryant Park, NYC
Tis the season to be shopping! You can catch us doing lots of our holiday shopping at this year's Winter Village holiday market in Bryant Park, New York City. Bryant Park's Winter Village is home to more attractions and holiday activities than we can count on one hand. For those of you who have attended Winter Village in previous years, the answer is Yes! The Winter Village holiday market is on for the 2020/2021 season. And to answer the other big lingering question, Yes! All necessary COVID-19 safety regulations will be in place. 
Now, for those who have never attended this magical event: From holiday shops featuring specialty food items and artisanal pop-up boutiques to the only free admission ice skating rink in NYC, the fun is endless, and the experience is truly unique.
Not only will the Saratoga Olive Oil Company be at the Winter Village holiday market in Bryant Park, NYC doing their own Christmas gift shopping (and eating), but we will be one of the Holiday Shop vendors this season! That means you can purchase our Home Stretch Gift Baskets at the market, or one of our three Mouth Watering Collections that include six sample-sized (60 ml) bottles of our most popular olive oils and balsamic vinegars, a.k.a our best selling gift by far! As well as a plethora of some of our favorite products here at the Saratoga Olive Oil Company like, the Cranberry Pear Balsamic Vinegar, the Garlic Olive Oil, and even our bursting-with-flavor Sea Salts that add the perfect touch to any meal. 
If that isn't enough excitement to make the trip out to the best holiday market in NYC during the Christmas season, then keep reading and let us entice you even more, because honestly, this is an event that you do not want to miss out on this holiday season! 
Holiday Shops
Bryant Park's Winter Village houses everything you'd need for a killer holiday trip (or shopping spree) to NYC, but it has to be the Holiday Shops that are the most notable part of this Winter Village experience.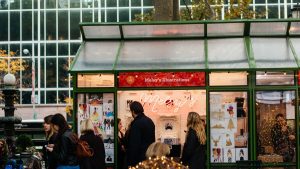 The Holiday Shops (each of which has their own custom-designed kiosk) provide a space for 20+ boutique vendors from New York City and around the world selling items ranging from jewelry, artwork, specialty truffles, home wear, clothing, and mac and cheese, to, of course, olive oils! All of which make great gifts for loved ones. Walking through the holiday market in Bryant Park, NYC is sure to inspire you in your gift-giving this holiday season. Who's the greatest gift-giver of all time? It's you.
When and where are the Holiday Shops, you ask?
October 30, 2020 – January 3, 2021
Sunday – Saturday: 11am-8pm
Dec 25: Many, but not all, Shops are open on Christmas Day
Dec 31: 11am-4pm
Now, for those who were pulled in by the mention of "the only free admission ice skating rink in NYC," fear not, this is not a joke—admission to the ice skating rink in Bryant Park is free!
The Ice Skating Rink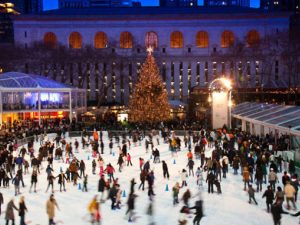 Winter Village at Bryant Park houses the only free admission skating rink in New York City. The 17,000 square foot rink is fun for all ages; and the fact that you only need to pay for your skate rental is even better. The rental fees range between $18 and $33 depending on when in the season you visit. In addition, locker rentals are free but if you don't have a lock then you will need to purchase one for $12. But, if you bring your own skates and locks, the experience can be entirely free! 
Often, there are even free skate shows, events, and activities that take place throughout the holiday season. For more information on ice skating in NYC, click here.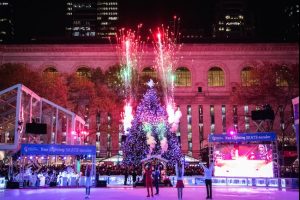 For our food lovers reading this, on top of the Holiday Shops that the Winter Village has to offer, the Lodge and the Overlook should most definitely satisfy your cravings for all things delicious. 
The Lodge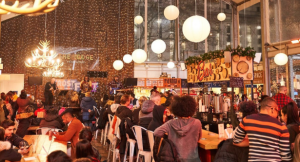 Next to the 17,000 square foot ice rink, The Lodge, Winter Village's food and bar hall holds a combination of trendy and traditional NYC restaurants. Each of these offers something different and is sure to leave your taste buds satisfied, while simultaneously wanting more. The next best thing, drinks! The Lodge features a sizable cocktail bar, and nothing less than a cozy outdoor beer garden.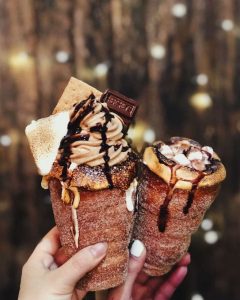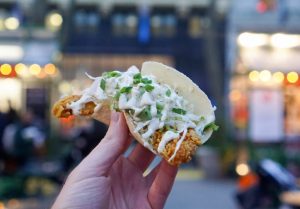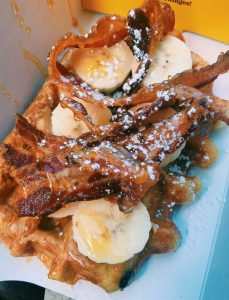 Dates and hours of operation:
October 30, 2020 – March 1, 2021
Daily, 8am-10pm
Holiday Hours
Nov 30 – Dec 30: 8am-10:30pm
Dec 31: 8am-4pm
Jan 1 – Jan 4: 8am-10:30pm
The Overlook

Last, but not least of the fun things you can do at the Winter Village in Bryant Park, New York City, the Overlook. The Overlook is an observation deck located on the second floor above the ice rink Pavillion where you can get a break from the cooler temperatures (brr), watch the skaters below, and enjoy a game of chess or other activities provided to you for free! Plus, you get a great view of NYC from up there!  
In Conclusion: Go Or Don't?
Yes you should go! The Winter Village in Bryant Park is really, truly, and undoubtedly worth your while. From artisanal Holiday Shops to affordable ice skating and exquisitely crafted food and drinks, everyone is sure to have a fun time. Plus, you'll get to see us there! The Saratoga Olive Oil Company is beyond excited to make the trip out for NYC's most magical event and we hope that you join us!
For more information on the Bryant Park holiday market click here.