Mango Balsamic Vinegar
True to the taste of the creamy Indian Alfoos Mango, this flowery white balsamic will jumpstart your taste buds with a smooth, but incredibly confectionery taste. Pair with our Chipotle Olive Oil for a match made in oil and vinegar heaven
Grown in India, the Alfoos Mango is one of the most sought after fruits in the entire world due to its sweet juicy flesh and pungent floral notes. A soon to be family favorite, this sweet and pleasantly tart elixir creates an amazing flavor sensation when paired with white fish and chicken! 
Great as a glaze for shrimp 

Mix up your next fruit salsa

Asian inspired dishes

Mango balsamic fruit bars with powdered sugar

Mango, bacon, goat cheese crostini

Seared scallops delicacy
Buy an extra bottle or two of our Mango Balsamic Vinegar, this is one balsamic you will not want to part with. Also makes an amazing gift for the foodie in your life. 
All of our balsamics are aged in wood barrels for up to 18 years. They are naturally free of any sugars, thickeners, and artificial ingredients. All-natural, always.
Ingredients: Grape must, white wine vinegar, natural flavors, naturally occurring sulfites
Frequently bought with
---
Basil
Olive Oil
$13.95
Basil Olive Oil
---
The peppery bite of freshly picked basil melts with the creaminess of the cold pressed olives.
---
---
---
Chipotle
Olive Oil
$13.95
Chipotle Olive Oil
---
Smoky and spicy to start, our Chipotle Olive Oil rounds off with a rich, peppery finish.
Brooke, our head of shipping , deems Chipotle Olive Oil her favorite, using it to sauté veggies, or drizzle over rice to spice up homemade Mexican dishes.
---
---
---
Blood Orange
Olive Oil
$15.95
Blood Orange Olive Oil
---
Whole, perfectly ripened blood oranges are crushed with fresh olives to make a beautiful Blood Orange Olive Oil that is fused with freshness and bright with flavor.
Barbara Braidwood, owner of Saratoga Olive Oil, loves using Blood Orange Olive Oil as a replacement for vegetable oil in baked goods.
---
---
Recipes you'll love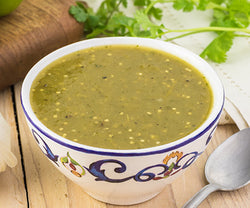 Salsa Verde
Hot & Spicy Watermelon Salsa
Scallops and Mango Ceviche
Our customers say it best