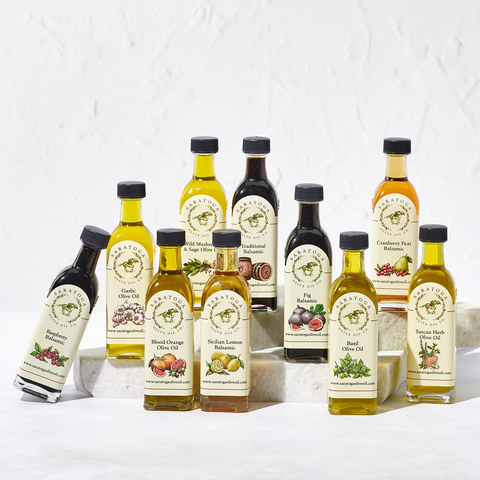 Ultimate 60ml Sampler
Our 60ml sample bottles are a wonderful way to try a new olive oil or balsamic vinegar. Try them all with this Ultimate 60ml Sampler! Get all 10 of our best selling olive oils and balsamic vinegars as 60ml sample bottles! Whether chosen for you or as a gift, these mini bottles are a splendid cooking treat!
Just a taste! Get all 10 of our best selling olive oils and balsamic vinegars as 60ml sample bottles! Find new favorite olive oils, dark balsamic vinegars, and white balsamic vinegars with this Ultimate Sampler Set. Try these best sellers for yourself and you'll be coming back for a bigger bottle! Makes a great gift to introduce someone to Saratoga Olive Oil Co.! Our most popular flavors, only as magnificent miniature bottles!
Sampler includes these best selling flavors:
Basil Olive Oil: A staple in Italian cooking. The peppery bite of freshly picked basil melts with the creaminess of fresh-pressed olives. 
Tuscan Herb Olive Oil: Savor the fresh herb blend of oregano, basil, garlic, and rosemary in our signature, best-selling Infused Olive Oil.
Garlic Olive Oil: True to the famous botanical vegetable, but you never have to mince garlic again!

Blood Orange Olive Oil: Perfectly ripened blood oranges are crushed with Tunisian olives to make a beautiful, fresh & bright flavor.
Mushroom & Sage Olive Oil: Fragrant bouquet of rich, savory olive oil.
Cranberry Pear Balsamic Vinegar: Enjoy all the crisp, clean, and tangy New England flavors all year long with this fruity, white balsamic vinegar
Fig Balsamic Vinegar: Boastful of a flavor so incredibly close to the actual fresh fig fruit. 
Traditional Balsamic Vinegar: Our best-selling balsamic vinegar from Modena Italy is tantalizing on the taste buds.
Raspberry Balsamic Vinegar: A perfect harmony of sweet and tart flavor
Sicilian Lemon Balsamic Vinegar: Sweet, vibrant, and versatile balsamic vinegar!
Our customers say it best