World Fire Collection
World class spice and intense flavor for this group of culinary rockstars. Think backyard bbq's, chili cookoffs, and epic cooking fun. We recommend this collection for the adventurous foodie in your life who likes a bit of a kick!
Recipe Included: Swordfish Tacos
Products Included:
Recipe Included: Swordfish Tacos (Chipotle Olive Oil can be substitued for the Red Cayenne Chili Olive Oil)
Please Note: We gave The "World Fire Collection" permission to arrive in regular packing materials. They decided a gift box just wasn't for them. If these are a token of happiness for a loved one, friend, or family member, just fill out the gift message section during checkout and we will be sure to include the note when these are shipped. Thank you!
Recipes you'll love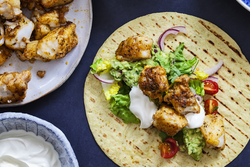 Swordfish Tacos
Our customers say it best