Z'hug Seasoning
Z'Hug is a full-flavored herb seasoning with a wonderful fresh flavor enhanced by a hint of warmth from the Turkish Marash pepper and a slightly citrus finish. You do not want to miss this amazing Yemen spice blend made with Turkish Marash pepper, Himalayan Pink Sea Salt, Tellicherry black pepper, coriander, roasted garlic, cardamom, caraway, lemon salt, parsley, and cumin.
Small: 0.54 oz | Large: 2.1 oz
Z'hug is a traditional blend from Yemen and also very popular in Israel. It's a great addition to your everyday seasoning blends. There are so many wonderful ways to use the Z'hug seasoning blend with your dishes! Add to your greek yogurt or sour cream and the flavors meld together for 20 minutes before using as a veggie or chip dip! Speaking of which, it is a great addition to hummus and baba ganoush appetizers. People have raved about including this with their favorite pan pizza, vegetable soup, and even baked and black beans. You can use it in its dry form or rehydrate it in your favorite Saratoga Olive Oil and use it as a paste.
Try mixing with a splash or two of your favorite SOOC Varietal Olive Oil and a dash of lemon juice. Simple, clean, delightful vinaigrette for your next salad!
Thrilled to include that The Z'hug Seasoning is ground fresh right here in Saratoga Springs, NY. 
Large: 2.1 oz
Recipes you'll love
Lemon White Bean Dip
Spicy Eggplant Dip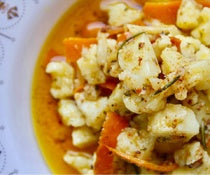 Citrus and Zhug Marinated Manchego
Our customers say it best