Steve's Story - Let Me Paint a Picture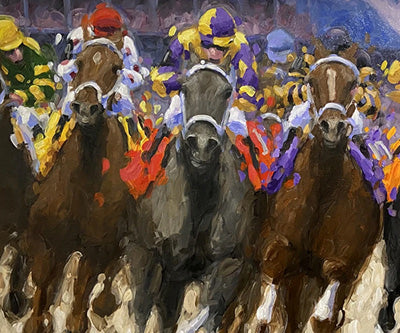 All through the shop in Saratoga, customers peruse various beautiful paintings hanging above the numerous stainless steel vessels housing our imported olive oils and vinegars, with the light sound of jazz in the air gracing their ears. Miraculously, through the mixing of unique, vibrant colors and textures on a palette, local artist Tom Myott captures the excitement of thoroughbreds in flight at the world famous Saratoga Racetrack. One can almost hear the rumble of hooves and the cheers of the crowd in these works of art. Explore more of Tom Myott's incredible artwork here.
When customers move their gaze down from the walls while delighting in the unexpected sensations in their nose and on their tongue from smelling and tasting our quality products, they often get drawn next to the multiple racks of postcard-sized photographs depicting dozens of culinary masterpieces. These fabulous dishes result from recipes on the back illuminating creative uses of our products in concert with other wonderful ingredients.  Somehow, through the perfect blending of various flavors and textures, not one at all like the other, combined with exposure to the proper environment and temperature, something brand new and delicious starts to emerge. You can almost taste the multi-layer chocolate fudge cake with delicious ganache, made using our Blood Orange Olive Oil and complimentary Dark Chocolate Balsamic.
While enjoying this experience, customers from all walks of life are assisted by any one of our many tasting consultants, each with their own unique background, personality and perspective. As a witness to these interactions, one can almost feel the elevating levels of joy and enthusiasm exchanged between these two people, who were strangers moments earlier, when mutually linked together by a shared passion for our products in a warm and welcoming environment.
I am always in awe at the beautiful symbiosis of the sounds of jazz, the sights of art, the smell and taste of food, and the feel of people gathered within the finite space of our tasting gallery at the Saratoga Olive Oil Company. While the individual components of a jazz trio, a painting, a gourmet dish, or even a combined staff/customer base bring forward a unique set of properties and characteristics, when integrated together at the proper tempo, in the right cultural climate, and with enough open space for imagination and growth to occur, unexpected and wonderfully artistic outcomes result. It is a reminder that our differences are but raw ingredients of thought not yet properly combined and baked. If the climate is too hot, ingredients burn out. If it is too cold, nothing grows. But when blended with precision and care in the right surroundings, unexpected works of art can appear.