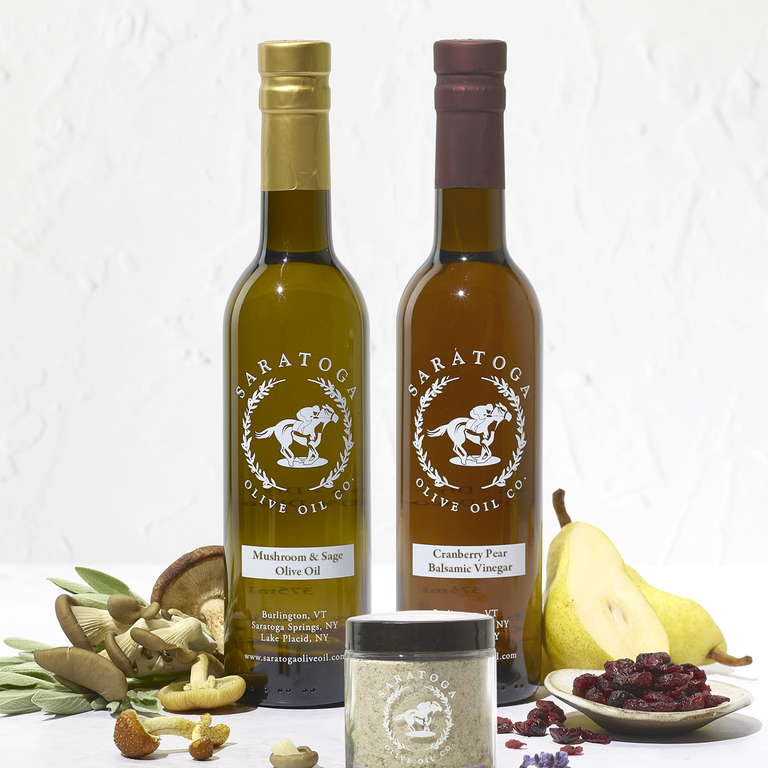 Holiday Favorites Trio
Originally touted as a holiday special for their winter-esque flavors, this popular pairing and sea salt has grown to be a year round favorite amongst our customers and friends. An abundance of wonderful recipes await you when you add these best sellers to your kitchen.
Product Description
Ingredients
Recipes
Cranberry Pear Balsamic Vinegar: WOW your family and friends with the tangy, balanced flavor of this white balsamic vinegar. Leave them guessing the secret ingredient in your next roast pork dish. Beyond protein, use it to dress up hearty grain salads, or get crafty with festive cocktails. Enjoy the satiety of a hearty meal, without the added sugar or fillers. This exceptionally tart and flavor-filled white balsamic is sure to liven up your meals during the holidays and beyond. 
Mushroom & Sage Olive Oil: Arriving in layers of flavor, our Mushroom Sage Olive Oil is heavenly on roasted sweet potatoes. Croutons crunch with the herbaceous flavor and a drizzle or glug adds pizazz to soups, stews, and savory chowders. This olive oil (when paired with our Cranberry Pear Balsamic Vinegar) takes poultry and pork to a whole new level! As a staple in traditional thanksgiving stuffing, you'll be asked to bring the main side dish for years to come!
French Provençal Sea Salt: Bathe your cuisine in the signature flavors of France! This classic medley of Provençal herbs includes thyme, fennel seed, rosemary, tarragon, basil, and lavender! The premium grey sea salt and harmony of herbs will elevate any dish you graciously add it to. A versatile seasoning that will become a timeless staple in your kitchen.
Try this recipe: Creamy Chicken and Butternut Squash, Caramelized Onion & Pear Pizza
Note: We give Popular Pairings permission to arrive in regular packing materials. They decided a gift box just wasn't for them. If these are a token of happiness for a loved one, friend or family member, simply fill out the gift message section at checkout and we will be sure to include the note when these are shipped. Thank you!